52.09% participate at 6:00 PM in the 23J elections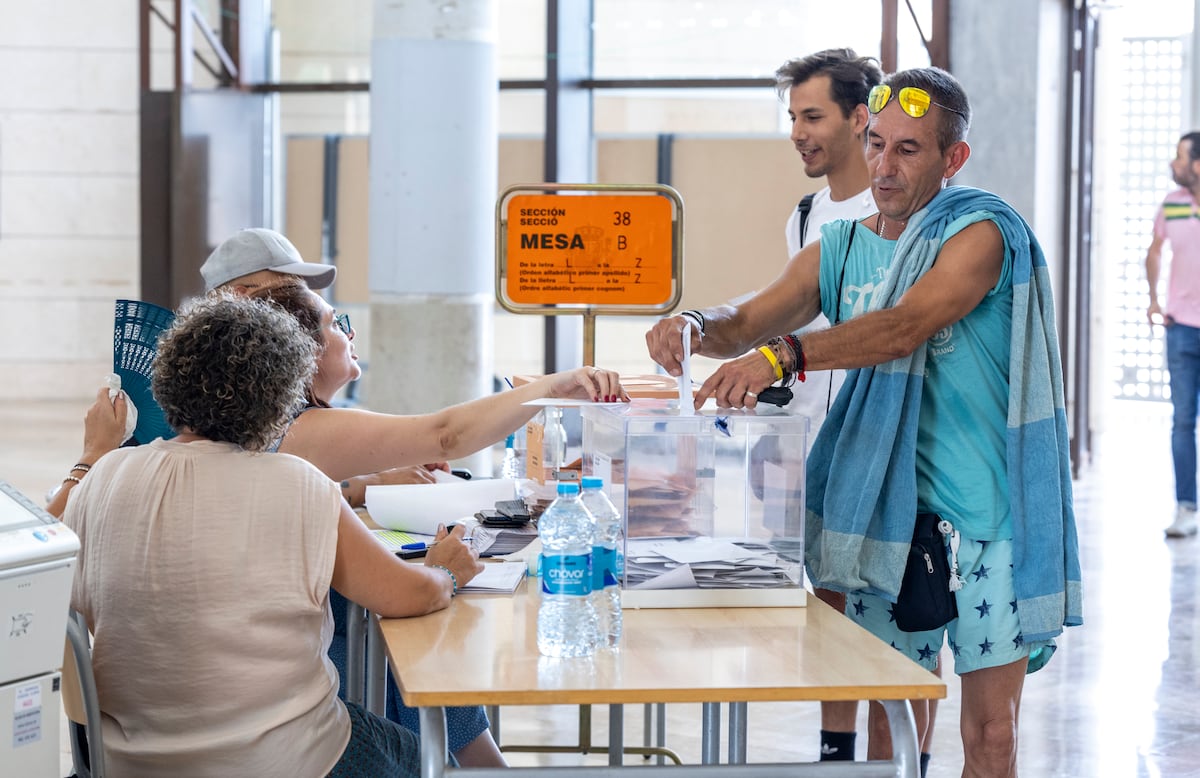 53.09% of the electoral census had deposited their votes at 6 p.m., according to new progress in participation in the general elections. This number is 3.76 points lower than it was at the same time in November 10, 2019, the last general election, when 56.85% voted at the same time. The data corresponds to the data of 98.22% of the polling stations.
In the previous advance, which reached 2:00 p.m., 40.48% of voters had already participated in the election, up 2.5 points from the previous election held in November 2019, in which 37.92% of voters cast their ballots at the same time. Data on registered votes provided by the government refers to face-to-face voting and does not include postal voting, which in this summer election set an absolute record: 2.47 million voters mailed their papers. This circumstance makes it difficult to compare Sunday's head-to-head vote with other electoral appointments. Postal workers take votes to schools during the day and they will not be added to the polls until voting closes at 20:00. As of 2:00 p.m., Extremadura and Galicia had the highest increase in voter turnout, by eight and seven points respectively, while Catalonia and the Basque Country are the regions with the lowest voter turnout. The next voter turnout data will be announced at 6:30 p.m., and provisional results of voting will begin to come in as of 10:30 p.m.
The Minister of State for Communications, Francesc Valles, received a 2.5-point increase in turnout as "good news" for any democratic process.
during the morning, Leaders called for broad participationbut they were cautious with expectations about the results.
What affects most is what happens closer. In order not to miss anything, subscribe.
"Absolute normality" was the key element of the polling station constitution, the Minister of State for Communications, Francesc Valles, and Undersecretary of the Interior Ministry, Isabel Goicoechea, reported in their first appearance on Sunday. 100% of the 60,000 polling stations were made up and Goicochea explained that "as in all elections", there was a polling station where replacements had to be appointed to fill the positions of president and member.
Despite the insistence of the journalists, who asked up to three times how many replacements were necessary to reach 100% of the polling stations, those responsible for the government did not provide that number. "It is information that we can provide them throughout the day. Logically, we will be able to make it easier for them," Valles offers. This matter was not addressed during the second press conference in which the electoral participation was reported at 2:00 pm.
From early morning, voters formed queues at the gates of polling stations, and Fans have starred in the photos of votes. passage Made to start your traffic devicein anticipation of crowded return from coastal areas, and collapse in a tunnel Trains between Valencia and Madrid were banned. More than 4,000 people have been affected, including travelers who complained that they planned to vote. Renfe arranged replacement measures for the 3,500 passengers affected by AVE and AVLO services, with replacement buses and trains which up until the time mentioned above were capable of carrying 2,000 users.
Receive our newsletter every afternoon Election newspaperwith analysis by Riccardo de Quirol, deputy director, and Luis Barbero, editor-in-chief of the edition.