A drought and a Russian blockade on grain kept livestock and flour producers under control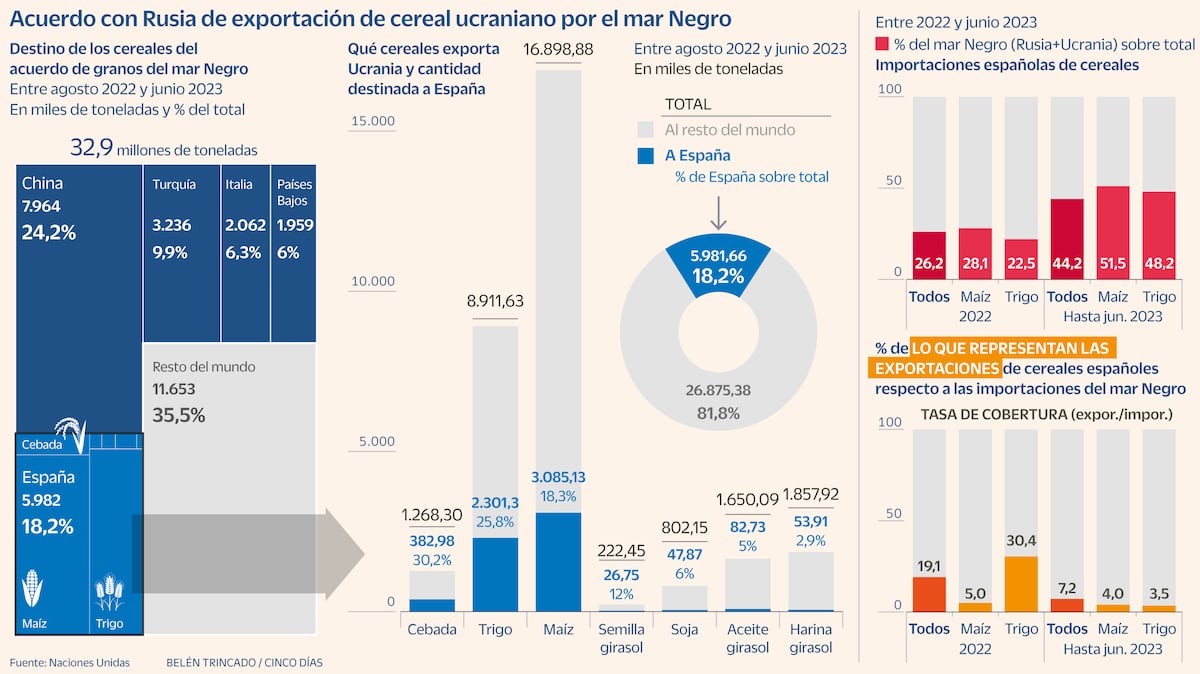 The Russians refused to extend Ukrainian grain export agreement The country's agri-food sector has been left shuddering, predicting shortages and a general increase in food products and even speculation problems. The initiative allowed millions of tons of grain to be exported to Spain between last summer and this despite the war. In fact, it was the second destination for these shipments after China. And although European Union sources had indicated months ago that a large part of these shipments were intended for re-export, both agricultural unions and the Ministry of Agriculture confirmed that almost all of them went to national consumption, especially for the production of fodder.
Even before the outbreak of the war, Ukraine was one of the main markets from which Spain imported grain. This is where they come from 30% of corn purchases, 60% of sunflower oil and 17% of wheatAccording to the foreign trade statistics of the Ministry of Industry, Commerce and Tourism. In 2022, this trend has continued and so far this year, in fact, it has rebounded, with nearly half of all national grain imports leaving the Black Sea. This dependence, in addition to the sudden closure of the sea lane and the difficulty in finding alternative markets in the short term, predicts a blow to the Spanish economy at a time of poor prospects for national production.
Farmers claim that because drought in SpainThe losses in the grain fields will be enormous, which means that the country will need a record supply of imports of more than 20 million tons if food and fodder supplies are to be guaranteed. The Spanish Grain and Oilseed Trade Association (ACOI) and agri-food cooperatives estimate declines of 45% and 49%, respectively, while the Agricultural Association of Young Farmers (ASAJA) expects a decline of 65%.
The problem of poor harvests is exacerbated by the number of livestock in the country. According to official figures, of the 37 million tons of wheat, barley, and corn that Spain consumes annually, nearly 30 tons are for animal feed. The Union of Small Farmers and Ranchers (UPA) is certain that drought and a reduction in Ukrainian supplies will increase costs for farm owners, as has already happened over the past year and a half. In this period, the sector has been paying up to 47% on average to feed its livestock, UPA estimates.
According to the organizations, the rise in prices will affect not only producers, but also It will have an impact on final consumer prices, as indeed happened in 2022. By August of that year — when Spain began receiving shipments from the Black Sea — bread had suffered an annual increase of 15.2%, according to data from the National Institute of Statistics. This means paying almost 11 euros more than in the same month of 2021. In the same period, flour is 40% more expensive and pasta 30% more expensive, all as a result of the conflict in Eastern Europe.
After months of cart spikes, inflation is finally down sharply –by 1.9% in June– Even the Minister of Economic Affairs, Nadia Calvino, predicted this week a further drop in the cost of food thanks to the moderation of cereals, energy and fertilizers. But Russia's refusal to prolong the export deal could lead to just the opposite. Chicago-listed wheat and corn futures were volatile last Monday as a result of the news and the Coordinator of Farmers and Livestock Organizations (COAG) fears the funds will benefit through speculation. "Those who always win in these market crises are the speculators and the big international companies," says Jose Ruels, a representative of the organization.
Farmers agree that demand will shift to Argentina and Brazil, which in the first half of 2022 supplied grain imports from Ukraine. However, the price will be higher and it is questionable whether the production of these countries can cover the national and European demand. Another option is for Kiev to double down on land routes to export its grain or to continue transporting it by ship at the risk of a Russian attack.
Despite these problems, there are some factors that may prevent food prices from rising to levels seen in 2022. Global commodity estimates are weaker as a result Poor economic prospects for China – the second world power – and the general decline in demand, which also facilitated the supply chain. In parallel, industrial prices fell thanks to lower production costs.
A devastating measure for poor countries
Since August last year, when the agreement was reached, more than 32 million tonnes of food and fertilizer have been sent to more than 40 countries, according to UN data. With it cut off, some of the poorest countries on earth could see their supplies seriously affected. According to Relief International, the humanitarian organization, the agreement has been "a lifeline for the 349 million people on the front lines of food insecurity." For its part, Action Against Hunger warned that the blockade could be "devastating for regions such as the Sahel" and described attempts to politicize food exports for geopolitical purposes as "alarming".
UN Secretary-General Antonio Guterres has emphasized that it "will be a blow to people in need everywhere", who will "pay the consequences" of Moscow's decision. For her part, the President of the European Commission, Ursula von der Leyen, said it was a "cynical move" and committed the region to work to ensure food security for the countries most in need.
Follow all information for five days in FacebookAnd Twitter y linkedinthat nuestra newsletter Five days agenda