A man died of heatstroke in Cartagena, and the Civil Guard is investigating if he worked in a greenhouse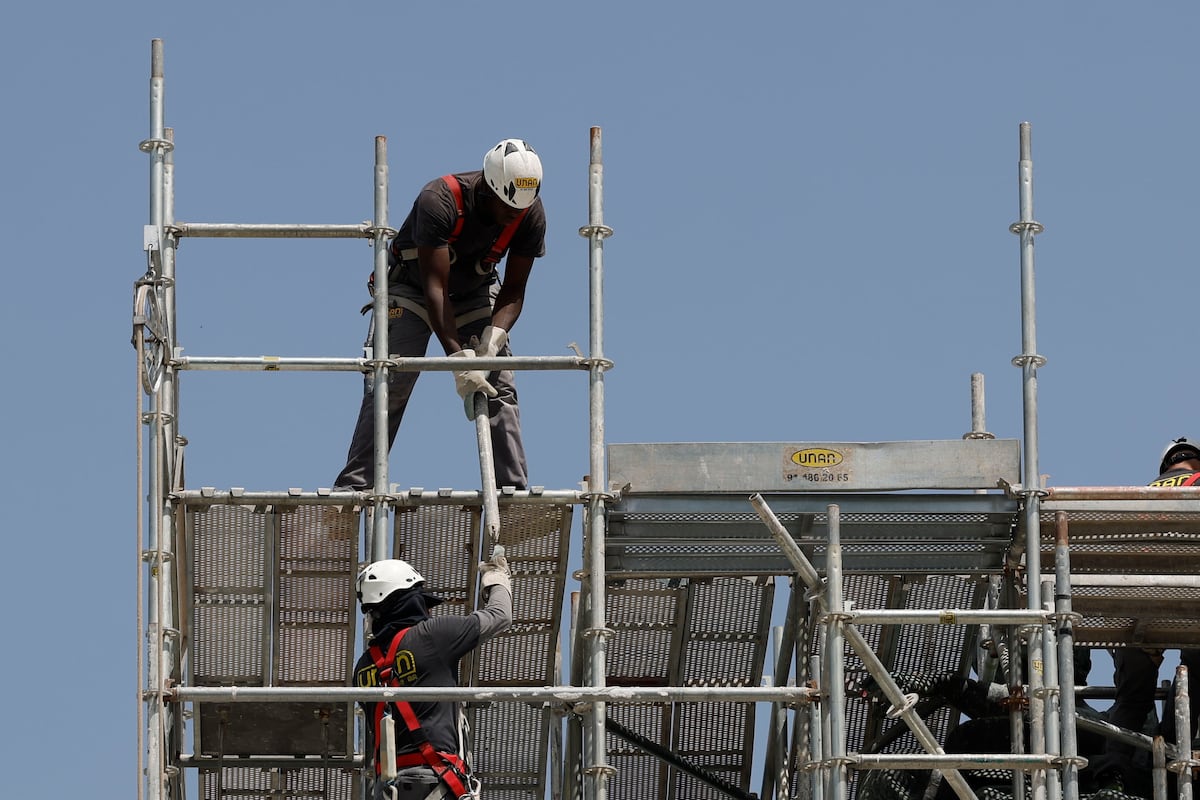 The government of Murcia confirmed, two days later, the death, on Tuesday, of a 42-year-old Moroccan man from heatstroke in Santa Lucia Hospital in Cartagena (Murcia), to which he was taken after collapsing in a street in Mazarron. The coup took place on Tuesday, during the second day from one A heat wave particularly affected the center, south and east peninsula and the Balearic Islands. This is the first death this summer from this cause in Murcia, to which were added three other serious cases in the Community of Madrid recorded on Wednesday.
The victim was taken from the town of Murcia to the Cartagena hospital after he collapsed to the ground, unconscious, around 5:50 pm on Tuesday, when he was in the village of La Majada. According to reports, a neighbor saw him and called 112 for help Murcia view. Local police officers attended the scene, as well as a mobile emergency unit, whose toilets took the man to Santa Lucia de Cartagena Hospital, where he arrived in critical condition and was admitted to the intensive care unit. There he died hours later. The body was transferred to the Institute of Forensic Medicine for an autopsy. According to the same newspaper, the Civil Guard is investigating the circumstances of death and whether The victim was a day laborer who worked in a greenhouse when he passed out.
Murcian government spokesman Marcos Ortuno confirmed the death and called for prevention in the face of high temperatures, in the face of which "particular attention must be paid to the most vulnerable people, such as the elderly, those with chronic diseases or children". When asked if this could happen in the workplace, Ortuño indicated that the Social Security Labor Inspectorate is the competent body to control security measures for companies. "It is clear that we from the regional government are cooperating with this organization in an active way. It should be remembered that this year's labor inspection has advanced the inspection campaign for a month precisely because of the high temperatures," Murcian's spokesperson added.
Tuesday, In Mazarrón the maximum was 36.5 degrees After a hot night, in which thermometers never dropped below 25.6 degrees — which is called a hot or tropical night — the area was under an orange warning, the second on a scale of three, for high temperatures. This level of warning indicates the presence of significant meteorological hazards due to unusual phenomena and some degree of danger to usual activities.
Wednesday, The last day of the heat wave, three serious cases of heatstroke were registered in the Community of Madrid, which were treated by Summa 112, the Emergency Medical Service of Madrid, two of them in the capital in their homes and a third victim on the street in Alcalá in Henares. As reported this Thursday by the spokesperson of the Community of Madrid Emergency 112, the three who were treated in serious condition, with extremely high temperatures and intubated, were taken to different hospitals, although there was no fear for their lives. The entire Madrid community was there that day under the yellow notice Because of the high temperatures it is recommended not to work in the sun or perform physical exercises outdoors in the central hours of the day.
What affects most is what happens closer. In order not to miss anything, subscribe.
Yesterday it is #summa 112 Taking care of 3 people with heatstroke, 2 of whom are in #Madrida 54-year-old man and a 76-year-old woman, both seriously ill.

in # Caladehenares. on public roads. A 66-year-old man presenting with neurological symptoms consistent with heatstroke. pic.twitter.com/3bxRyXqtNT

– 112 Community of Madrid (@112cmadrid) July 20, 2023
In the capital, where Retiro Station is marked with a maximum of 37.5 degrees After an overnight low of 25.3 degrees, a 54-year-old man and a 76-year-old woman. The first was helped at his home, on Generosidad Street in the Villaverde district, around seven in the evening, as he had just arrived from working all day in the kitchen of a restaurant. Upon arriving in the latrines, he "experienced with a reduced level of consciousness" and had a temperature of 40 degrees. After his condition stabilized, he was taken to the clinical hospital, where he was admitted.
The second case occurred at 8:40 pm on Monte Aya Street in Villa de Vallecas district. This woman suffered from heatstroke while she was at home. She felt unwell and called 112, who also found her to have a "low level of consciousness" and a temperature of 40 degrees as well. Troops took her to the Infanta Elena Hospital, under tube and in serious condition. The third case was in Alcala, where maximum It was 38.3 degrees After a night when the low was 22.5 degrees, the troop assisted a 66-year-old man in the Plaza de la Juventud. He was conscious, but had "nervous symptoms consistent with heatstroke" and a 39-degree, almost 40-degree fever. He was taken to the local Principe de Asturias Hospital.
Samour, for the time being, has not attended any serious cases so far this summer in the capital, according to a spokeswoman for the Madrid Emergency, who adds that last summer there were 26 cases, of which three ended in death, including. Jose Antonio Gonzalezsweeper who He died on July 14 while cleaning up Street in Vallecas at five in the afternoon.
the The clearest symptoms of heatstrokeSpokesperson 112 warned, "a serious or very dangerous emergency that could cause death," suffering from a severe rise in temperature and loss of consciousness. In addition, the skin is hot, red, and dry, and feels like a severe headache. A change in mental status such as delusions, fatigue, hyperventilation, nausea, vomiting, or diarrhea may also occur. in video broadcast 112the lead bodyguard for Summa Patricia Blanco Recommended for handling high temperaturesmoisturize it throughout the day, avoid leaving the house during hot hours and keep the house as cool as possible during times of high temperatures.
Subscribe here To our daily newsletter about Madrid.