Bizarre excuses for avoiding a penalty for evading the polls: from "breaking fingers" to getting drunk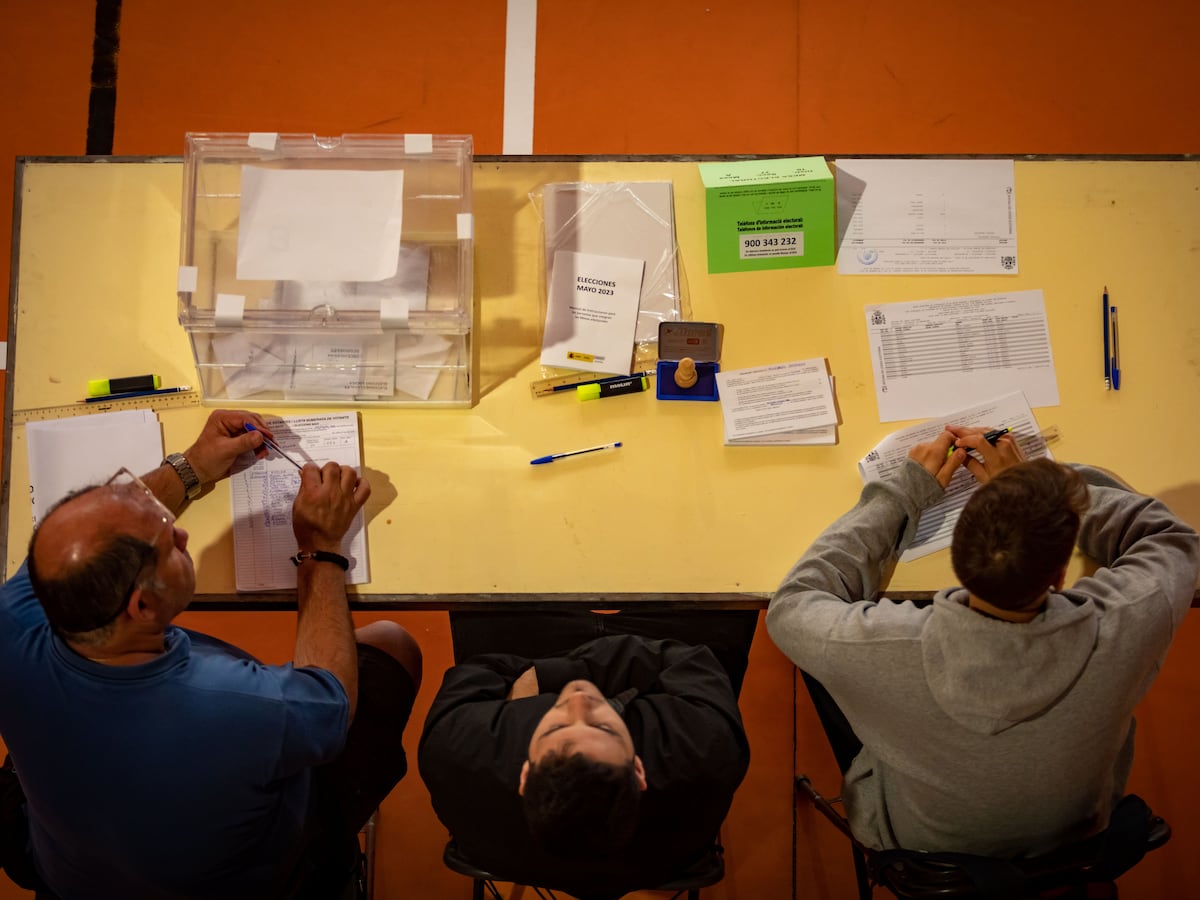 President Pedro Sanchez surprised everyone On May 29, he announced his electoral progress. The call for elections for July 23 – with quite a few Spaniards on vacation – put many citizens in the wrong position, who tried to disrupt their plans as little as possible. The data backs it up: Mail-in voting requests have doubled regarding appointment with polls in April 2019and they have it too Increased disposal requests than being part of a table at 23-J, according to dozens of electoral boards consulted by EL PAÍS. But with regard to this last situation, now that the decisive moment has come, what penalties does the law provide for those who do not sit at your table? What kind of excuses were made to try to avoid conviction?
The answer to the first question is found in The official state newsletter (BOE): in Article 143 of the LOREG (Basic Law of the General Electoral System), which provides for "the offense of abandonment or non-compliance at polling stations". This principle asserts that chairpersons and members of polling stations (or those acting on their behalf) can be punished with imprisonment from three months to one year, or a fine from six to 24 months, "who cease to attend or perform their functions, or abandon them without legitimate cause or who comply without justifiable cause with the obligations of excuse or advance notice imposed by this law."
For a person to be judged, Supreme Court jurisprudence has laid down a series of conditions. First, you must prove that the elect has been notified. But once this point has been established, the burden of justifying his absence rests with the accused. In other words, the subject "must prove" that there is sufficient reason not to go and not to notify the authorities, according to various decisions. Despite this, in nearly half a century of democracy, the ploys to try to avoid punishment have been very diverse. EL PAÍS collects some excuses that were useless:
fall asleep Antonio (fictitious name) was to appear at Mendia Public School, in Balmaceda (Bizcaya), at 08:00 on April 28, 2019. He was appointed as the first alternate member of the second general election, but did not show up. According to his statement, he fell asleep and did not go to the facilities until "09:00-10:00"; Seeing that the vote was working normally, he deposited the ballot and left. However, the Criminal Court 2 of Barakaldo and the Regional Court of Bizkaia did not purchase their copies. "This is a claim devoid of any evidentiary principle," refuting the second instance court ruling of February 2, 2023, which insists that Antonio did not prove that he slept "accidentally" that day, thus opening the door to the possibility that he did so "on purpose" or that his thesis was merely an excuse. The court fined him 4,050 euros.
"upset stomach". On January 30, the Court of Asturias sentenced a man to pay a fine of 900 euros for not going to the Social Center Pomarín (Oviedo) on May 26, 2019, where he had to be part of a table set up for municipal, regional and European elections. He confirmed that this was not because he was suffering from an "upset stomach". The Court did not believe him: "The alleged cause of justification lacked any proof, otherwise there would have been no difficulty in representing him. He did not provide a medical justification for his illness by any means, nor did he even contact the Electoral Board to explain the circumstances in which he found himself that day or with the Electoral College in which he had to attend." already formed."
What affects most is what happens closer. In order not to miss anything, subscribe.
"I no longer live in my father's house." To try to drop the accusation, the defense of Mathilde (a fictitious name) focused on trying to drop the root of the case: as she reiterated, she did not know that she had been chosen as a member of a table because she had not received the notification, since she had arrived at her parents' home and was no longer living with them – and her parents had not informed her of this. However, the Barcelona court found that she had lied to the court, as well as her mother and brother when supporting her account. The judges took into account that the mother contradicted herself, as she recounted during the investigation that "whenever she gets something for her daughter," her son takes "a picture with her mobile phone" and sends it to her via the "WhatsApp" application:[Lo hace] all messages it receives. The court ordered her to pay a fine of 1,800 euros, as stated in the judgment, on October 5, 2021.
He had a broken index finger on his right hand. On April 21, 2021, the Oviedo Court approved a penalty of a fine of 900 euros for a man who did not appear at his polling station on May 26, 2019, of which he should have been part. He excused that "the index finger of his right hand was broken" and that due to "extreme pain" he could not drive from his home to the polling place. To justify this, he submitted a medical report dated May 22nd. However, the judges stated that this document "confirms", specifically, that "clear lines of fracture were not appreciated" and that "the shell appeared to be intact". The court stressed that the Electoral Council itself rejected this excuse when the man told him, and that despite that, he did not attend the election day.
get drunk Criminal Court 4 in Móstoles (Madrid) describes the following scene that occurred on May 5, 2015, 19 days before the regional and municipal elections that year. "The defendant, who was at his home in Fuenlabrada (Madrid), refused to receive the notice given to him by the notification agent," in which he was appointed as the first member of a polling station. Faced with this situation, two members of the local police went to the house and warned him of the legal consequences of that. But they did not convince him. "He refused again and again." Meanwhile, he exclaimed, "I will speak for these Democrats, who do nothing more than suck from a bottle. I don't sign anything or go anywhere. Besides, they sent me to Chicago to notify me." […] I hate to go to trial and have to ditch the fucking judge. I put eggs on the table if necessary.
Of course, the man did not appear at the polling station on May 24. Justice initiated a case that resulted in his penalty being paid 450 euros. During the process, the defense alleged that he was drunk when he was notified of his appointment. Thesis rejected by the Madrid Court in October 2022 after examining his appeal: "The local police officers who appeared at the scene stated that they did not appreciate that the accused was drunk at the time […] It cannot be concluded that addiction – which treats the defendant after the facts – and/or alcohol intake could have totally or partially nullified his perceptual and volitional capacity at the time of the facts (which it should not be forgotten that this is not the time of notification, since refusal to notify is not an act that constitutes an offence, but when he does not appear to have been designated on election day as a 'polling station').
Subscribe to continue reading
Read without limits