Bruguera, where the geniuses of humor lived
We left Francisco Ibanez creator, among others, Mortadillo and Philemon And one of the last bastions of Bruguera editorial. He died last Saturday in Barcelona. How was Bruguera, the publishing house that has contributed so many geniuses to comics? Let's start from the beginning. The Spanish post-war period was, as Joan Manuel Serrat asserts, a time of the black market and trams, porridge For dinner, gathering and chicken in the showroom, "Una, Grande y Libre" times. ration cards and political repression among others. Childhood holidays focused on radio, the neighborhood cinema, games in the street, books and, of course, comics. The cartoon industry began to recover timidly in 1939, and comics were, by government imposition, reserved for minors. Publishers were rekindling, some like Valenciana, Toray or Bruguera publishing a wide variety of titles and beginning to forge what we call an industry, always in housecoat and slippers.
Authors, screenwriters and illustrators were not the owners of their creations and did not receive copyrights, their originals, raw materials for comics, which remained in warehouses in case they had to be reissued, were not returned. And they charged so little per page (or per cartoon, which would explain the many cartoons that some comics have), that they were forced to work piecemeal, in comics, graphic humor, illustrations, or cartoons. In fact, members of this generation of cartoonists considered themselves craftsmen rather than artists. The historical environment did not facilitate his aspirations, whatever works came out of his grains and brushes from his possessions. No publisher has recognized their rights as authors.
One of the most important comics publishers was Bruguera, known as El Gato Negro before the Civil War. In 1945, directed by Francisco and Pantaleon Bruguera, it employs Rafael González, an exiled and vengeful journalist, who has to devote himself to various professions to survive, including writing popular literature. Gonzalez fired the header reactivation little thumb, who between 1921 and 1939 edited El Gato Negro with great success. The first thing he did was gather a group of authors from different artistic fields: animation (Sevry, Escobar, Peñarroya, Iranzo), illustrated humor (Conte) or other publications (Jorge, Sabatis, Eugenio Jenner, Antonio Bosch-Pinalva, Angel Pardo), as well as some young talents (Angel Nadal or Manuel Vazquez).
In December 1946, little thumb It returned to newsstands, in theory becoming a children's or youth magazine, but clearly aimed at adults as well. González chose a humorous version with sections and some adventure sequences, always looking for characters who could keep their readers engaged. From there, still in the post-war period, came some series that would become great classics of our comics: Carpenta y Zippy and Zabi (Escobar), Reporter Tripolite (Severy), no bio y Fat stuffed (Benaroya), Mrs. Urraca (Jorge), karaoke (conti), Casildo Calasparra (Nadal), Bibi family (Iranzo), Sisters Gilda (Vazquez) or the policeman Inspector Dan (Gonzalez and Jenner). Characters endowed by their creators, many of them ex-Republican guerrillas (like Francisco Bruguera himself), a very particular expression and lively force, characters immersed in post-war society, demonstrating the distorted and brutal reality of the street: hunger, blackouts, the black market, sub-tenants, the tyrannical work system or family misery.
To this very expressive cartoon illustration, Author Terence Moeks He identified it as Escuela Bruguera in his 1968 book comics. Consumer art and pop formats. What united these creators, according to Moeks, was "the involuntary appropriation of the zeitgeist conveyed by men who came from a common social environment – the middle class – and had a very specific historical experience – the war." For Moix, Bruguera's school was a "recreation of the spirit made viable in completely everyday forms, which the need for caricature was not able to distort. These cartoonists never showed themselves activists through their works, but limited themselves to witness. To express the idea, typical of political caricature, they opposed the witness of posturing, typical of costumbrista realism."
Contracts arrive
In 1954 everything began to change. The company became a public limited company, and Bruguera created something unusual for the time in the comics market at the time: contracts. Usually, the authors of all publishers sign a receipt that includes the amount they paid for their work, the comics they provided, and the assignment of ownership of their work. In 1956, the Bruguera entered into annual contracts with various charters, which specified a minimum amount an author or author would be paid annually, that they had to work exclusively for a publisher (unless the publisher had written permission), that their work had to be done in their own home, and that the publisher acquired the rights to their work with "full ownership". It must be said that in the case of Bruguera, the annual amount received by the authors was important: between 60,000 and 180,000 pesetas per year (depending on the cartoonist, their origin and their importance in the publishing house).
Air became scarce, and in 1957 five of Bruguera's most prominent collaborators decided to leave the publishing house and start their own company and magazine. A complex initiative in difficult times for poetry. With the financial backing of Josep M. Freixa, at that time owner of the Crisol advertising agency, Cifré, Conti, Escobar, Giner and Peñarroya joined Dibujantes y Editores Reunidos (DER), producing an excellent weekly in June 1957, Hot uncle, a comic strip designed for adults, with comedy and literary sections. They created a new series because they could not take their characters, who at that time were owned by Bruguera, with them, except for Conte, who was able to continue with Apolino Tarúguez (appeared in 1951 in DDT, another Bruguera magazine), because it, created in 1944, belongs to it. Bruguera competition (which, among others, will publish new magazines such as can can a Sisi) and the weakness of economic management in the management of human resources put an end to the initiative. In 1958 Bruguera took over the Cape Hot uncle (which closed in 1960 to be returned to newsstands in 1961) The "Big Five of Comics" returned to Bruguera and resumed their characters.
In fact, at least Bruguera's first school would end here. The Ministry of Information and Tourism, aware of the growing success of comics, had in 1956 established very restrictive regulations for children's and young adult publications, expressly indicating what should be "avoided": declared examples of secularism; Graphics that can satisfactorily arouse children's sensitivity; the glorification of suicide, euthanasia, homelessness, or drug addiction; Mocking parental authority or marital infidelity. Little by little, some of Bruguera's serials lose their critical edge: Doña Urraca has a boyfriend, Jaramillo, who's not that cruel; Don Pantoflo's punishments for Zibi and Zabi were mitigated; Carpenta Not So Hungry The sadistic relationship between the Gilda sisters disappears and the characters walk in the countryside, or the marital quarrels between Pius evaporate due to the appearance of their nephew.
fresh sap
Appearance said Hot uncle On the DER side, he favored having new collaborators in Bruguera's comic comics. to Nene Estivil (Agamemnon(o Martz Schmidt)Compresses doctor) will join, among others, Enrich (Caco Bonifacio), Robert Segura (Rigoberto Passepartout, great bearing BA), raf (Ms. Leo Portapartes and then, Sir Tim Othieu) or Francisco Ibanez (Mortadillo and PhilemonAnd Trapezund familyAnd 13 Rue de Barnacle a Rumbichos). The more satirical designer has given way to a new way of understanding humor, also crude and currently we can say politically incorrect, but without too many critical references to the Hispanic society of the moment, exploiting more direct humor caused by failed jobs, forgetfulness, bumps or misunderstandings between the characters.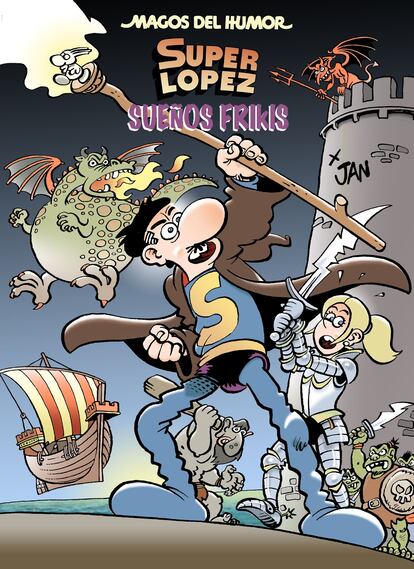 Bruguera continued to grow. The company, which has figured prominently in issuing comics as well as novels, articles, and poster albums, now has more than 1,000 workers on the payroll. He opened some graphic workshops in Parets del Vallés and doubled his presence on newsstands with dozens of new titles, with comics or collections as popular as Captain ThunderAnd PigAnd DDTAnd Big thumbs upAnd first!And humor wizardsAnd Mortadillo a Zippy and Zabi.
It was 1969, with the first feature-length adventure published Mortadillo and Philemon for Ibanez (Atomic sulfate) When the popularity of proxies began from TIA, Popularity has helped a lot balance Bruguera's numbers for years. Starting in the 1970s, a new generation of humorists arrives and settles (Jaume Rovira, Esigui, Joan March, the Fresno brothers) who, along with veterans such as Alphonse Figueras, Tran au Jean (with Super Lopez y little thumb) contributed new legends to a publisher who sold hundreds of thousands of copies of his magazines. But by the end of that decade, it was clear that his show was faltering and beginning to age. Comic has arrived for adults and a new way of understanding cartoons; Children's entertainment was changed by television and early computer games, and the reissues of comics in the 1950s and 1960s (there were thousands of pages to fill each month) did little to help attract a new generation of young readers to read these comics.
Contractual relations with the authors have not changed much. Indeed, in the 1980s, shortly before Editorial Bruguera disappeared, creators such as Josep Escobar, Francisco Ibáñez or Víctor Mora claimed their copyrights, without being able to do so through the courts.
In June 1986 the publishing giant disappeared. Bruguera Editorial Fund It passed in 1987 into the hands of Ediciones B, Which started a new phase in publishing children's and youth magazines and comics of all kinds. The new intellectual property law was there, and although it was difficult at first, it ended up being respected. Ediciones B continued to publish its magazines until 1998, but the really popular phase of industrial comics for children and young adults disappeared with Bruguera. of whatever they were Super Lopezwho Jan retired in 2022, and Mortadillo and Philemon, now orphans of the recently deceased Ibanez. Certificate that the Bruguera School is located there. It remains only to keep it alive and with dignity.
All the culture that goes with you is waiting for you here.
Literary novelties analyzed by the best critics in our weekly newsletter
Subscribe to continue reading
Read without limits