"But does Feijóo come out or not?" Bittersweet victory in Genoa, 13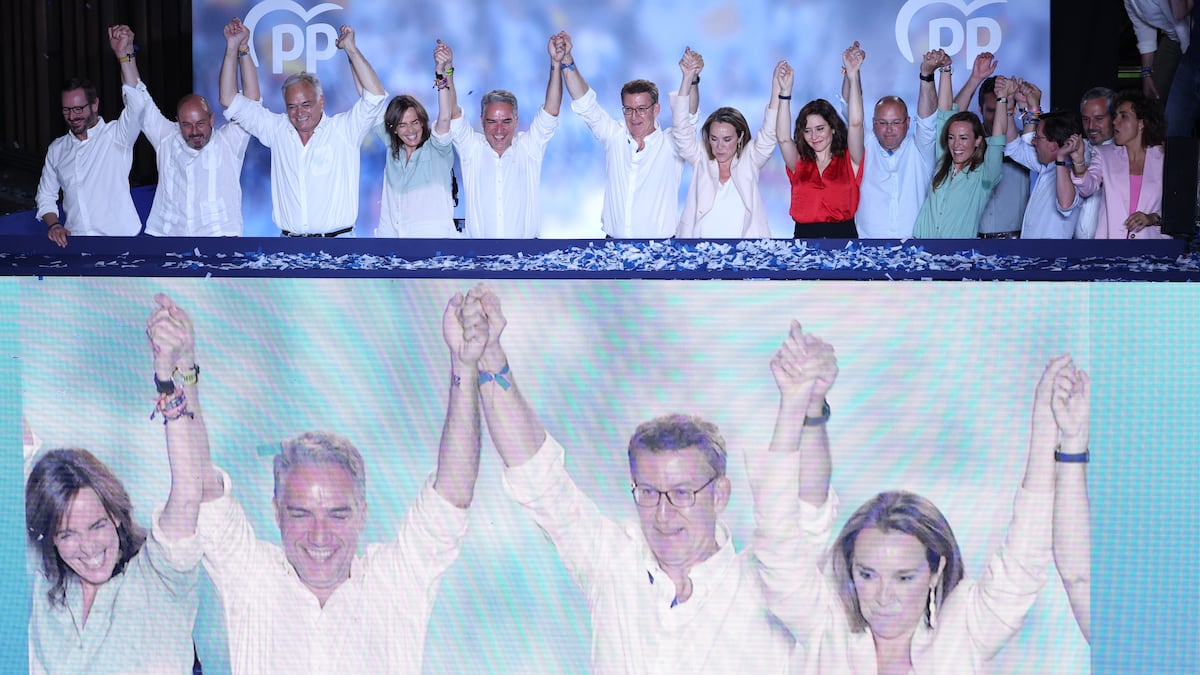 Winner appeared after loser, but none of these roles were very clear on Sunday. The People's Party became the first political force, but still won 176 seats with Vox, and government in the air. People are already starting to get nervous on Genova Street: "Does Feijóo come out or not?" The balcony for big events was set up in the afternoon, but at night they didn't know what they were going to watch. They already decided the next day, at 00.10. seem once again. (again, from Daft Punk). "The People's Party has won the general election again," the candidate said at the end. "We have gone from being the second power to being the most voted. We have won 40 of the 52 autonomous provinces and cities in Spain and probably have an absolute majority in the Senate." Since the future was not clear, Alberto Núñez Viejo went back to the past: to the "crisis" that his party was going through "more than a year ago", when he took over. The audience responded by chanting "ayusuu" – who beat Pablo Casado With the help of the then presidents of Galicia and Andalusia. By the way, Juan Manuel Moreno Bonilla attributed the victory to Figo. And the president of Madrid did not quote him in her tweet: "Thank you to the more than eight million Spaniards who voted for us. The result of this election, won by the People's Party, cannot become a weapon in the hands of those who want to destroy Spain."
Thanks to the more than 8 million Spaniards who voted for us.

The result of this election, won by the People's Party, cannot become a weapon in the hands of those who want to destroy Spain.

– Isabel Diaz Ayuso (@IdiazAyuso) July 23, 2023
The candidate continued, "As a member of the most voted party, with all humility, but with all determination, I will open dialogue with the other parties. No one should be tempted to blockade Spain again. He told the crowd that he could not rule as the first political force, and that little for himself 'would be an anomaly'."
For much of the afternoon the atmosphere in front of the Genoa headquarters was reminiscent of the atmosphere of a football field when your team is not counting on itself. Until the Antena 3 special was shown on a screen to follow the examination, PP sympathizers would compulsively consult the stat on their mobile phones and occasionally ask how "others" were doing, in case their eyes deceived them. Caucus politics turned Election Day into the last day in the league.
And Coca Jamara, Secretary General of the People's Party, appeared after the publication of the first polls after the schools were closed with a fearful face and demanded "caution". "It will be a good night," he dared to say near the end. He thanked the post office staff for their efforts. Obviously, regardless of their superiors, they got the job done flawlessly.
What affects most is what happens closer. In order not to miss anything, subscribe.
As the count progressed, the People's Party voters would make their way to Genova Street, which was already closed in case more came. Angels and Pilar would greet everyone from their first row on the sidewalk, perching like queens in their chairs and occasionally opening a case of beer. This is the third time we come. With Ayusu, with Rajoy and now him." And because experience is a degree, they demanded calm: "A mistake went wrong in the end," they commented, referring to Roller coaster drive already last week shocking Feijoo. After two hours several hundred people surrounded them, many with the Spanish flag draped around them like a cloak. A lot of merit considering 35 degrees of the thermometer and the tip of the human thermometer.
Until they were cheered on, seated in a chair, one of my favorite topics of conversation was, What Went Wrong: "They have caused so much fear with Vox"; "We are alone and the others have 50 parties"; "This is worse than a vote of no confidence in Rajoy…". The other, more suspenseful issue of killing time until the monitors gave them some reason to start yelling at DJ Pulpo to play them some music, was "sanxe dogBut the DJ, also an old dog, did not work until the check was over. Then it was no longer known who supported whom: "The People's Party won the elections!" the DJ shouted. "What is Pedro Sanchez celebrating?" he asked.
In just over an hour, it was sung 12 times in front of the PP headquarters "Let Txapote vote for you", The latter, in front of Feijóo, who didn't even threaten to ask his fans not to. The statement of Consuelo Ordóñez, president of the Collective of Victims of Terrorism and sister of Gregorio Ordóñez, member of the People's Assembly who killed ETA, begging that "this disgusting slogan" could not be used was a dead letter in Genoa, 13. Francisco Malagón, 19, member of Nuevas Generation, thus explaining why he had not been ruling for four years against terrorism. .
Feijóo arrived in Genoa just after 8:30 p.m. Certainly, with other expectations. A few days ago they thought the party was going to be bigger. Rashada, as they say in Galicia. The popular seats, which could reach 160, were down 24 more than they got.
As was what he heard at home, a neighbor shouted in front of PP headquarters around ten o'clock at night and at the top of his lungs: "This is pucherazo Pedro Sanchez!" Two days after Diaz Ayuso made the term popular in the regional campaign, he secured an outright majority. The People's Party won elections this Sunday, but the anti-Sanchiyeh shadow has been less long-running than they painted that blue summer. And for all the doubts they sowed, too, about the chosen date – "they want people not to vote" – it had a share four points higher than it was in November 2019.
Receive our newsletter every afternoon Election newspaperwith analysis by Riccardo de Quirol, deputy director, and Luis Barbero, editor-in-chief of the edition.
Subscribe to continue reading
Read without limits