Clemente, surprise Madeline with a large audience, but a small class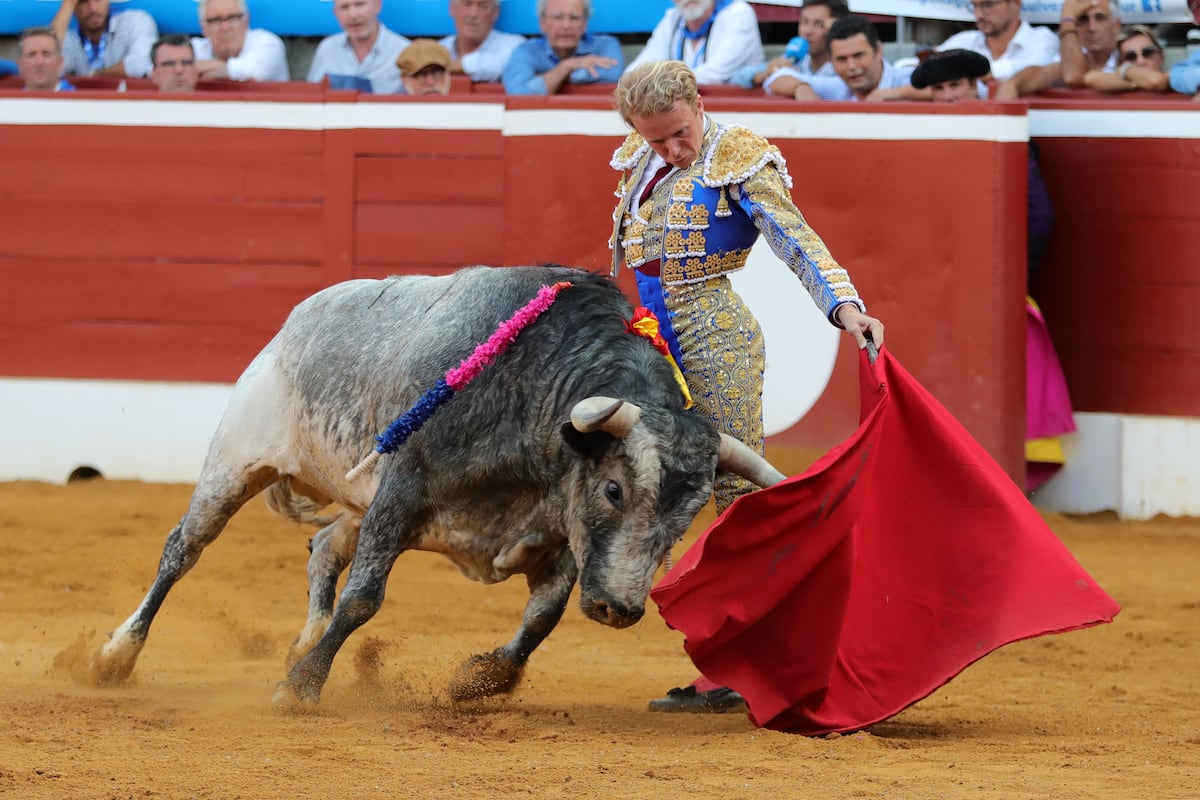 In a constant attempt to maintain a balance between bulls and matadors, between characters and turismo, the French town of Mont-de-Marsan, located in the Landes region, held the traditional madeleine fair this weekend. Cycle has popped up again due to the great public response. The arena was filled nearly every day and a "No Tickets" sign was posted in the afternoons (Wednesdays and Saturdays). This was the best news for a fair marked, however, by the lack of class of the majority of bulls.
The Cebada Gago bullfight, fought on Friday the 21st, was particularly disappointing. After several years of absence, the Cádiz coin returned to the Mont de Marsan arena with an unequal bullfight, Astifino, meek, soft, noble and outcast. Contrary to what any bullfighting fan would expect from this iron, which goes through a really deep hole. The only ear that was cut off that day was cut off Jesus Enrique Colombovulgar and helpful with a crutch and a banderella, but he has a great heart.
Better get a signature Fernando Roblino, who reappeared after suffering remorse in Pamplona. And the man from Madrid left the details of taste and purity, especially in his second turn, but he failed with the sword. Domingo López Chávez, who was saying goodbye to a squire who had witnessed his success on several occasions, was apathetic and distrustful of him, and ended up killing the fourth with a treacherous blow.
Emilio de Justo, prior to La Quinta's bull appearance, signed one of his best assignments since his reappearance
La Quinta's bullfight turned out better, fought the next day, served properly (except for the very third), but not overdone, which he discreetly complied with on horses and attacked with as much nobility as he was gentle in the final third. There was something more than class and transition was the second, the fifth, and above all the sixth.
The Conrady brothers' ranch wasn't bad, of course it wasn't, but it also wasn't one of those demanding and soulful horse ranches that made this horse ranch one of the more interesting that followed on the Bravo field a few years earlier. Again, we thought about adding a lot of water to the wine. In short, excessive nobility and no ferocity.
Bullfighting, however, to embroider bullfighting they took advantage of, halfway through, Daniel LockeAnd Emilio de Josto and Clement. The first, one of France's most titled bullfighters, marched in figeasy and without pressure, as if in a temptation, and walked with tender ears, the second, after a great push.
De Justo, another bullfighter revived by France a few years earlier, was not up to his first, and gave everything against the fifth, who even got Portagaiola. As inspiring and erratic as it is, this assignment is probably one of the best he's fallen for since his reappearance.
But the biggest surprise of the afternoon and fair was the performance of Clemente, a Bordeaux-born bullfighter who is back in the fairs this season, having fought hard since his replacement in 2016. With his stunning blonde hair, and despite his obvious lack of skill, he showed a very classical concept, naturalness, improvisation and refined taste.
Both of VI's ears were cut off when he was caught in the act of killing, and he suffered two cuts, one in the thigh and the other in his right leg. With a bloody stocking and clearly looking in pain, he held out in the ring until he finished off his opponent and went to the infirmary under his own power. Without a doubt, the bullfighter must follow.
Sunday's Pedraza de Yeltes bullfight was awaited with great anticipation. The Salamanca iron, one of the more regular arms in the neighboring country, has closed Madeleine once again after notable fighting bulls in recent years, but this time, the infallible Pedraza has been disappointed.
Although bullfighting was hardened in rods and had such virtues as nobility, fortitude, and humiliation, it lacked that background of social class and strength to move it in its final third. While it is true that expectations were very high, it is also true that most of them were imposed the village They fell very low.
It was one of the best, which really put pressure on the horse, it was the fourth, which ended up bottomless, but it deserved better treatment than Rafaello, almost always off the horn. So fast, his version against the First, one of the strongest of the Sixes, couldn't have been better.
Alberto Lamelas was honorable, and at times mild, in two excessively long moves, which he also fouled to the side. The fifth, in addition, was directed and ended up falling short.
Like López Chavez on Friday, Tomás Dufau also bid farewell to the Mont de Marsan fans on the final day of the fair. Although it was sometimes difficult for him to take the necessary step to achieve the indispensable link, he left signs of his good opinion and signed the best crutches of celebration.
Madeleine's fair on Wednesday the 19th began with a bullfight by Garsegrand in which Roca Ray made the basilo, who appeared on the shoulders, Thomas Ruffo and Yon Lamotte, a local right who took the alternate, cutting off only one ear of the sixth, a specimen distinguished by its remarkable background.
The next day, despite a bad run from El Pilar, the big door opened as well. This time the winner with big ears was Daniel Lockie. The last French canton of Dorian was cut off, while Sebastien Castilla was silenced.
All the culture that goes with you is waiting for you here.
Literary novelties analyzed by the best critics in our weekly newsletter