Fire Fighting Air Buccaneer Squadron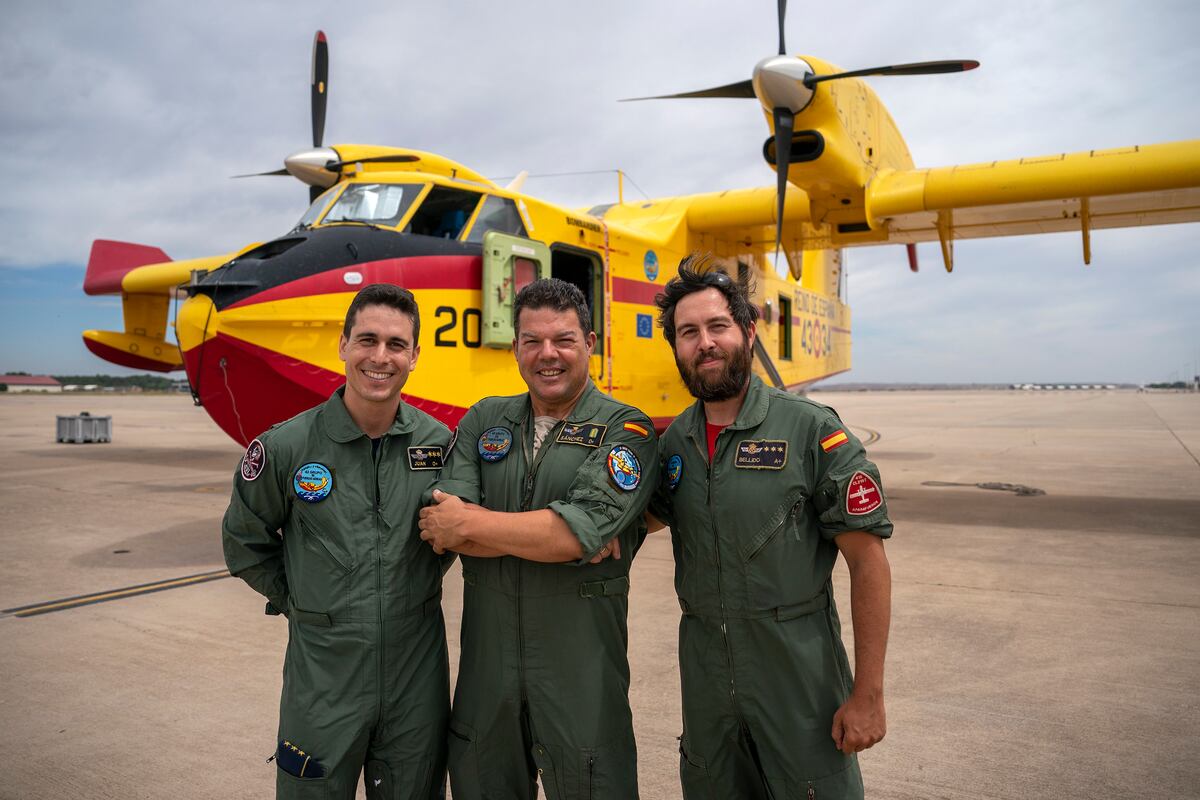 The Bombardier CL-415 is an amphibious aircraft naked. Some kind of yellow ship with wings and everything exposed: cables, screws, couplings, tanks, pipes, control panels … It does not have a single cover and, at first glance, looks very primitive, as if you were trying to drive a tractor. His task is to go to the forest fires To turn them off by dumping six tons of water that you can store in stomach. "It's a can of aluminum and steel, and the closest thing to flying an airplane in World War II," jokes Capt. Aitor Bellido, a 39-year-old pilot with ten years of service in the 43rd Group, a firefighting unit, known as the "Pirates" because of their armour. "And because we're kind of like sky pirates," he says.
Bellido is one of 49 pilots in this unusual squadron, a sort of sibling that takes to the skies almost with white card Under the slogan "Turn off and let's go!". It appeared in 1971 in the Air Force and now has a fleet of 18 aircraft distributed, in a complete shooting campaign, throughout the Spanish geography. They are stationed at the Torrejon de Ardoz Air Base (Madrid), and act as gunners Subcontracts The Department of Environmental Transformation (Miteco) is operationally dependent on the Military Emergency Unit (UME) of the Department of Defense.
The men and women (there is only one) who are part of the "43" pilots are between the ages of 23 and 52 and have previously passed five years at the Military Academy of San Javier (Murcia), apart from studies and subsequent examinations to obtain promotions. They seem to be made of a special fire-resistant paste because, though they love their job ("If you don't like it, you can't have it here," they agree), they also have plenty of reasons to burn.
A voyage in these ships of bolted metal plates, where the noise is deafening and the temperature inside easily exceeds 50 degrees, requires – at least in Spain – that the crew consist of two pilots (it corresponds to the most experienced person) and a mechanic, who will take care of accidents that may occur in the air. "That's why all the mechanisms are in sight," says Juan Sanchez, a 49-year-old flight mechanic with 14 crew members. "You can act quickly with almost any mid-flight failure," he explains.
warship flight
"It's a completely handmade manual flight, not even similar to a commercial flight, which includes multiple automatic systems that calculate movements and execute them by pressing a button or moving joystick ", Goal Capt. David Juan Conde, 28, was a former flight instructor and now a pilot at the Air Force One 43. "Here you fly with the sensations, as your hands feel the controls and your body vibrates from the strong turbulence and pressure changes caused by the temperature changes," Bellido explains. He adds, "You are guided by what your eyes see and estimate (whether or not there is smoke in the air or reflections in the water), which is why we can only fly from sunrise to sunset, never at night." "In our flight, decisions are made mainly on the basis of experience and experience, and 'by eye', which is why hours of teaching and training are important. We fly very low, between mountains and trees, high-voltage antennas and cables, avoiding birds or rocks, buoys and boats in the water," says the pilot. "In addition, we do not take off and land only once in flight," he warns, "but we do it as many times as it takes to load and unload water, 20 or 30, until we put out a fire, and up to nine hours in the air, which is the limit set by our regulations," Juan Conde details. "In short: this is real flying," Bellidoux concludes.
What affects most is what happens closer. In order not to miss anything, subscribe.
The type of emergency mission that these hackers from the sky means that they are not only subject to general airspace regulations, but due to their exceptional conditions and functions, they can also fly exceptionally well, with Corso patentto land and take off in almost impossible places, powered by two powerful 2,500-horsepower engines to overcome the resistance of the water, while loading their tanks (six tons in just 12 seconds) with the pressure of the aircraft's friction against the surface of swamps, lakes or seas.
life on earth
But, in addition to this, being an "air pirate" entails a certain life on Earth. For example, they never have a summer vacation, because the shooting campaign runs from June to October. For that half of the year, they've been living with a "three-day suitcase" always ready to fly away, literally. They spend that period of time changing destinations roughly every month between eight airports across Spain from which the seaplane fleet is distributed: Santiago de Compostela, Salamanca, Badajoz, Málaga, Albacete, Pollensa, Zaragoza and Torrejon de Ardoz. The other half of the year their base is in Torrejón, where they dedicate administrative work, repairs, training or studies to promotion, no matter how much they can take their holidays: "We're going in the opposite direction around our families, and the divorce rate here is very high," they point out.
Salaries range from 2,100 to 2,600 euros per month. "The French and Italians, with whom we have regular exchanges, charge twice as much as we do," says Pellido. In the months they are away, they receive a meager allowance of €77 (net) per day, which should cover accommodation and maintenance. They do not charge extra hours or guards. And during the campaign (five months), if they do not "blow the alarm"—that is, if they are not on duty—to get into the air at the time they are called upon and within a maximum time of 20 minutes, they must always remain close to the base. "It doesn't matter if you're at the gym or at the movies, and of course you can't go there if they call you." Medical examinations are rigorous and regular: "eyesight, hearing, blood, medications, heart, psychologist, psychiatrist, dental…they look at everything."
20 years ago – knock on wood – there was nothing Fatal accident in the unit. But the hall of his modest building, at one end of the Torrejón base, is presided over by his patron saint, the Virgin of Loreto, and a golden plaque bears the names of those killed: 15, in five crashes between 1976 and 2003. From what they say, most are pilots. from 43 They've been shaped since childhood: "I don't remember ever wanting to be anything else," they agree. Some even had a life goal of flying a seaplane: "It's the most fun flight ever." They say "it's beautiful". "And even if they don't give us medals, it's very convenient to fulfill the task of putting out a fire and then feel the gratitude of the people," they comment. These air pirates, formerly known as botijeros — "for they carried a clay jug into the cabin so that they could drink water" — not only are they united by belonging to a brave and valuable band, but there is something much deeper, a feeling that unites them.
Subscribe to continue reading
Read without limits