Michelle Kang, football's first pole vaulter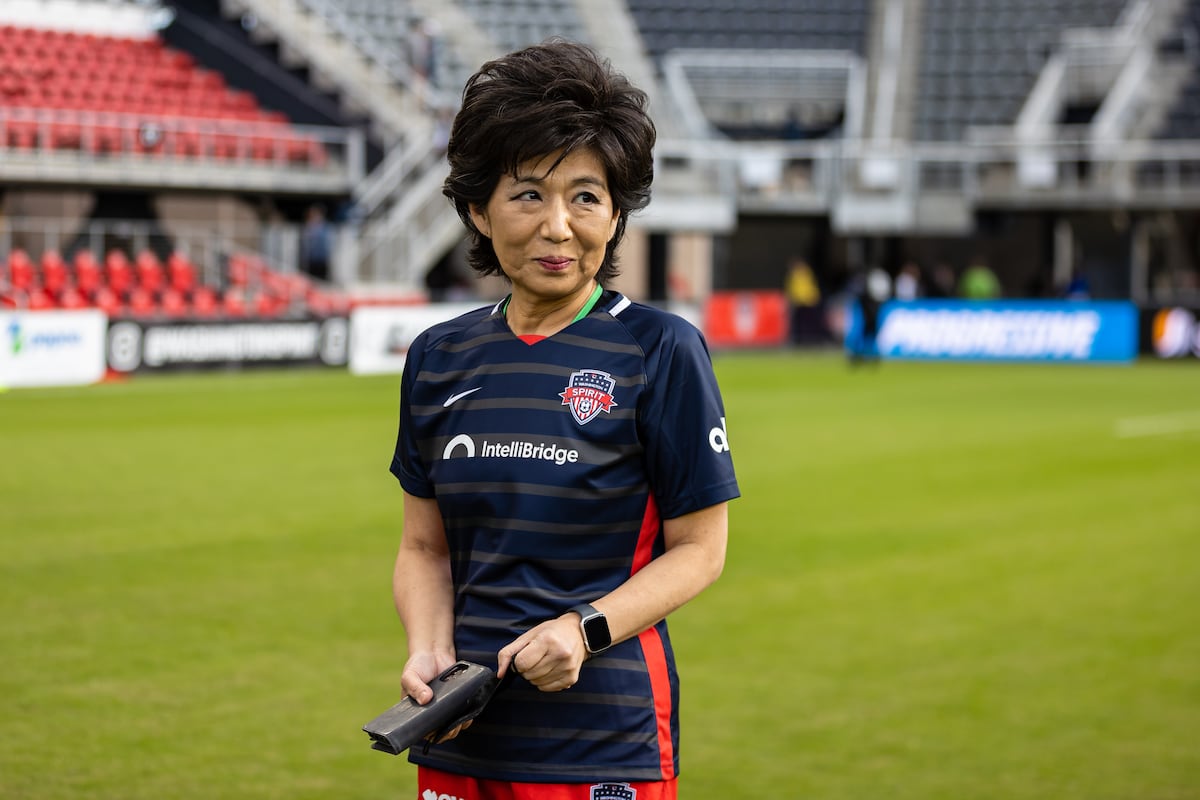 Like many women of her generation, Michelle Kang (South Korea, 64) grew up without thinking that being a soccer player could be an option for a woman. Although she played as a child in her country, she never took up football again. until met The United States Women's Team, the last World Champion, During his visit to the White House in 2019.
"I think it would be more accurate to say that football found me, not so much that I found football," says Michelle Kang via videoconference. "I can't say I really had an opinion on soccer before I got into the industry. I played when I was young, of course, in Asia it's very popular. I respect the game, but before I was invited to the Capitol Hill reception after the 2019 World Cup, I didn't even know there was a women's professional league in the US. I knew soccer was popular in schools, but I didn't know there was a professional league."
Michelle, who proves herself after a series of adventurous and challenging moves Senior partner in Washington Spirit The National Women's Professional Soccer League in the United Statesnwsl), attending the conversation from Leon. She has just bought 52% of the most successful women's football team in history, Olympique de Lyon, and with that becomes majority partner and CEO of the first multi-club organization led by women and focused on women's football.
The process may seem strange to a South Korean businesswoman who made her fortune in the health tech sector; But if we travel to the past, we can understand that it was not the first time he had been challenged which country. He did just that in 2008 when he founded Cognosante, with the goal of revolutionizing the healthcare system in the United States. After 15 years, she tried to do it in football driven by her newfound passion: making change, improving conditions for players and taking advantage of sporting and business opportunities in women's football.
"I became very passionate [al fútbol femenino]. I believe in equality between women and men on the field of play. I see it as a great business opportunity and that's why I'm here," said Kang, who has remained close to players and fans since arriving at the Washington Spirit at the end of 2020. The footballers publicly supported her when she wanted to win a majority stake in the NWSL, after allegations of abuse against former Spirit coach Richie Burke were made under Steve Baldwin.
"The person we trust is Michelle. She constantly puts the needs and interests of the players first. She listens. She believes this can be a profitable business and you (Steve Baldwin) have always said you intend to give equipment to female owners. That moment is now," read the letter, which was posted in October 2021 and signed by the players.
In February 2022 Baldwin and minority shareholder Bill Lynch agreed to sell their interest in the club to Kang, in what was previously listed Sports Business Journal as a general process. Not bad for a businesswoman with no background in the soccer industry, who has been able to identify areas of opportunity and improvement, not just for the Washington Spirit or the new multi-club organization, but for the sport in general.
Now Kang is looking to make his way in an industry closed to newcomers and change. No historical leader has dared to do what Kang does: revolutionize women's football from the top. "In all businesses, when you've been inside for a long time, it's very difficult to see certain things because you get used to it. But for the outside, it's not hard to identify the problems that need to be fixed," says Kang. "It doesn't take a genius to figure out how to fix the training environment or figure out how to train women as women."
These new approaches went well in the United States. In addition to Michelle Kang's Washington Spirit, clubs like Angel City, San Diego Wave or Kansas City Current have changed the way they see women's soccer. The turning point has already occurred in Europe. Proof of this was the 91,500 spectators who watched the match between them Barcelona and Wolfsburg for the 2022 UEFA Champions League.
To maintain momentum, Kang says, it is imperative that those involved in women's soccer maintain quality, bring together the best athletes, invest in science and technology for female soccer players, and focus on the fan experience. "We as owners and players need to make sure we deliver the best product and put together a value proposition that proves it's worth it for people to spend a weekend with us," she says.
Women's football, however, faces great challenges, such as the difference in playing styles between the continents. "I don't think it will be like 'This is how football is played in Europe against us.' In the end we can all learn from each other and that will make the game more fun and exciting. There is still a lot to work on in the global community, Europe and Asia have the most mature leagues at the moment, and I think we should come together to get more benefits and have dialogues on how to create more excitement," explains Kang.
The purchase of Olympique Lyonnais and the creation of the first multi-club organisation, is the starting point for bringing about these changes. There is no stronger brand in women's football than the French national team, which is the most successful in the domestic league and in the history of the UEFA Champions League. Players like 2018 Ballon d'Or winner Ada Hegerberg or Eugenie Le Sommer, the all-time leading goalscorer from France and stars from the United States, as well as activist and soon-to-be former athlete Megan Rapinoe.
It is as if Michelle Kang has chosen Real Madrid, the first winners of the major European leagues, to lead his project. "At the end of the day," she says, "it's about all the little girls who have grown up in the world and are considering going into professional football. Of course, not all of them will dream of becoming players, but at least now, if they want, they will be able to make that dream come true."
In the near future, the first women's football mogul in Latin America and Spain muses: "Hopefully next month there will be an announcement of the next team. Obviously Latin America, South America, Spain, Italy, Germany and the Nordic countries, they are all very strong for women's football and we're watching it."
Subscribe here to the news From EL PAÍS México and receive all the essential information about current affairs in this country
Subscribe to continue reading
Read without limits