Pragmatist wins his ideology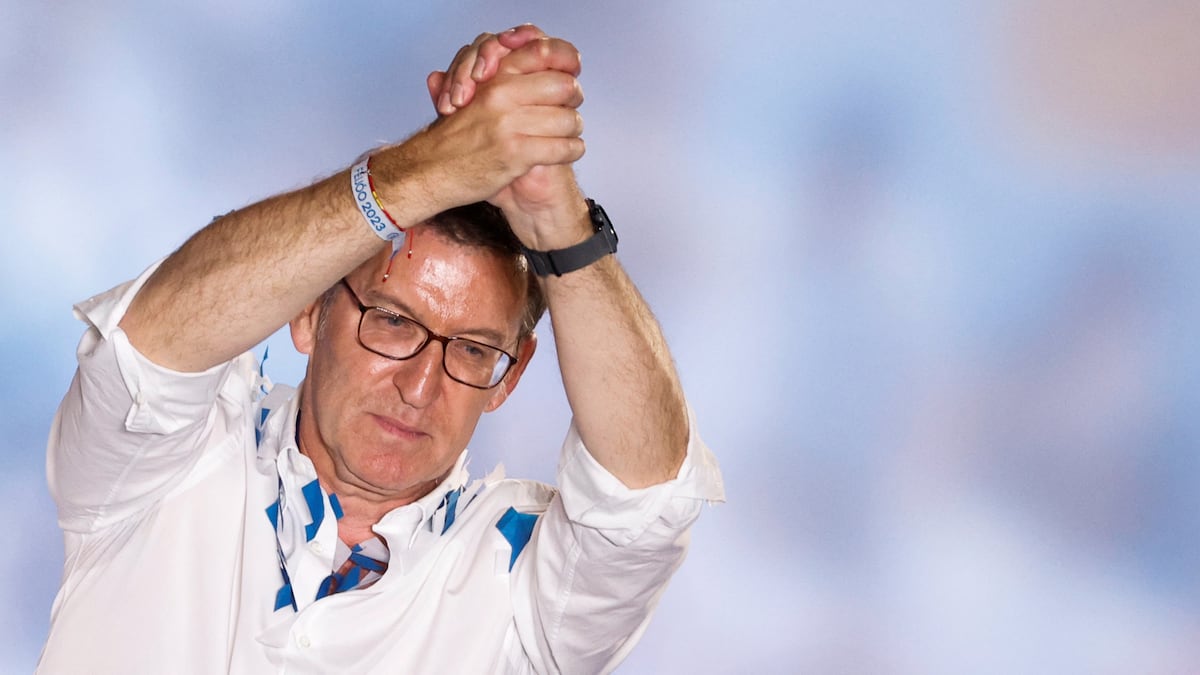 Alberto Nunez Viejo (Os Peares, Ourense, 1961) He is a flexible and pragmatic politician, with little ideology, Galician, moderate in style, ambitious but patient, who becomes ruthless when his great goal is in sight: to win. He usually gets it. In his idealistic theory of pragmatism, he admits without shame the impossible situation of being, at the same time, from Deportivo de La Coruña and from Celta, so as not to admit that the team he really throws is Real Madrid. The first time he voted, in 1982, he chose the ballot for the socialist Felipe González because he did not see himself with a whiff of voting for the old right who led the Popular Alliance of Manuel Fraga, with whom he later worked comfortably for years and from whom he inherited power in the People's Party and in the Xunta de Galicia. In this campaign, his first general election as president of the list, he spoke more than ever of himself and his humble origins to present himself to the millions of Spaniards who did not know him as the first president of an empty, forgotten rural Spain, who emerges from the shelves of a grocery store lost at a crossroads at the end of the world to reach La Moncloa with his great efforts. "I'm Feijóo, I want to win and be the president of Spain," That was a summary of his golden minute in the head-to-head debate against Pedro Sanchez. He won, but not as expected.
Feijóo once again put Os Peares on the map in this campaign, his small village of barely a hundred inhabitants surrounded by several rivers, municipalities and counties in the deepest center of Galicia. But in this display of duplicity, Figo came to politics as an example of the opposite: he was rescued from Madrid from almost executive work as an official to put an end to the presidential and authoritarian manner of rule of the Galician patron Manuel Fraga, who had a map of all the Galician fairs, and the Pulpadas and burned in it the head of state. Based on ambition, action, connections and maneuvers, the civilized De Os Beres buried the PP of the beret that his then internal rival, José Quina, and later, the Baltar clan in Ourense had tried without success to capitalize on. I defeated them first and then merged and finally annexed them. He deserves almost everything.
Feijóo now feels that he is the direct heir to the top cabinets of Aznar and Fraga PP, but he has never been a great admirer, follower or personal friend of any of them, because the one he really admires is Felipe González, with whom he has a good relationship, as with the occasional socialist baron and with the lehendakari Íñigo Urkullu. His reference and great supporter in politics was the former Minister of Health of the Technocratic People's Party, José Manuel Romay Beccaria, lawyer of the Council of State who came at the end of his career to preside, antithesis to Fraga as leader in Galicia of the Mortar clan, cleric and relative of the Opus, one of the exponents of the national policy of many Galicians.
About a person who will be 62 years old in September, who gave birth to his first child only six years ago, who is also called Alberto, who has devoted himself to public affairs for more than 30 years, between business and direct political functions, in theory almost everything should be known. This is not the case. Feijóo is gentle and polite in manners, but is not confident and judgmental. The only authorized and authenticated biography of him is a book entitled The journey of Feijóo, the village boy who never lost an election. It's a compendium of cute and satisfying images of a boy who came from nothing to achieve almost everything. Between lines and paragraphs, a more realistic and also useful Feijóo is discovered, who at the death of his father realizes that he must abandon the study of the complex competitive examinations of a magistrate for the simpler and more demanding examinations of a Xunta official, who studied without disdain for parties in the legendary university city of Santiago de Compostela, which mobilized heavily during the transition. Feijóo would climb up the organizational structure of that nascent independent administration because he was diligent, a negotiator, and got along well with good patrons.
When he succeeded Fraga, Feijóo did not back down as leader of the opposition in Galicia. He kicked it all out, went back to the festivals, resumed his Galician, and used all the tricks to undermine it A bi-party coalition government has become intertwined between the PSdG led by Emilio Pérez Touriño and the Galician Nationalist Bloc by Anxo Quintana. Feijóo benefited from all the visible and invisible conflicts of this complex entente. From putting out a terrifying fire with a small hose to denouncing the luxury armor of an official car with a pocket fridge or Promoting a riot of local public servants in front of the Galician Parliament. Thus he opposed it for a while until the next elections come and he wins, as he will do three more times with an absolute majority. Vigo's national victory this Sunday by a narrow margin (1.3% and 311,300 votes) is, in a sense, its first defeat in the face of expectations.
What affects most is what happens closer. In order not to miss anything, subscribe.
Galicia and Ixonta have been more than just training camp for 14 years. In the position of Galician chief, he formed his institutional file and distributed it to all the orchestras, without getting too wet in any difficult battle from the electoral point of view. He was ambivalent in his use of language and cautious in his treatment of the media. He made his transformation into a powerful and self-ruling Galician baron compliant, but always with an eye on Madrid, the capital's circles of influence and national politics. At that time Elbas published his famous photo with drug Marcial Dorado, which revealed a friendship that lasted for years with one of the most famous historical smugglers in Galicia when drugs caused a massacre among thousands of young men and It seems that brave mothers are fighting this scourge alone. He appeared before the press, once in Parliament, but never explained how this strange relationship arose and continued. Now he justifies himself by the fact that there was no Google or the Internet at that time and that his friend Marcial was just a smuggler at that time.
The team of half a dozen people with whom Feijóo returned to Madrid 15 months ago to give everything in his last political chance, after the crisis that destroyed PP Pablo Casado, because of how he managed information about the infection of the brother of the president of Madrid in the purchase of masks during the worst periods of the pandemic, is almost the same as the one that surrounded him in Galicia, in PP and Xunta. He was formed in his immediate circle by former journalists turned executors of his orders. Loyal, loyal and irreverent. The same people who prepared a speech for him with equal enthusiasm in June 2018 and reversed it when he found himself between a rock and a hard place to take over Rajoy's duties when he had to leave after a motion of censure, a challenge he then rejected because the only reason he was there was "Galicia, Galicia, Galicia". And those who forwarded these messages a year and a half ago to assume that Figo had no choice but to be the patriotic salve for the PP after the fratricidal crisis between Casado and Ayusu.
Feijóo barely consults them when he tells them they are all moving to Madrid to rescue a depressed and confused PP, compete against Pedro Sánchez, "cancel sanchismo" and carry out the mission to "save Spain". They all came, and it took them a few months to understand that the political and media microclimate in Madrid did not even resemble that of Galicia. After consideration, now and in case the polls did not confirm the projections and demographic projections, Figo put them all on congressional rolls to guarantee them a seat and a few years into the future. He had a deadline and a challenge: to win and rule Spain.
In the People's Party, during this first half, he allowed the barons settled in their lands to do without examining their ideology or their betrayals because he was only interested in their votes and their victories, and he saved because of his moderate paper some marginalized politicians from the previous stages and confirmed the promoted candidates in the forgotten period of Casado, who won now because they benefited from the leadership of many autonomy. He demanded and promised them only one thing: to win, but the significance of this victory is not at all clear.
Subscribe to continue reading
Read without limits