Prosegur Crypto Strength: "There is more money than all branches in Madrid and Barcelona combined"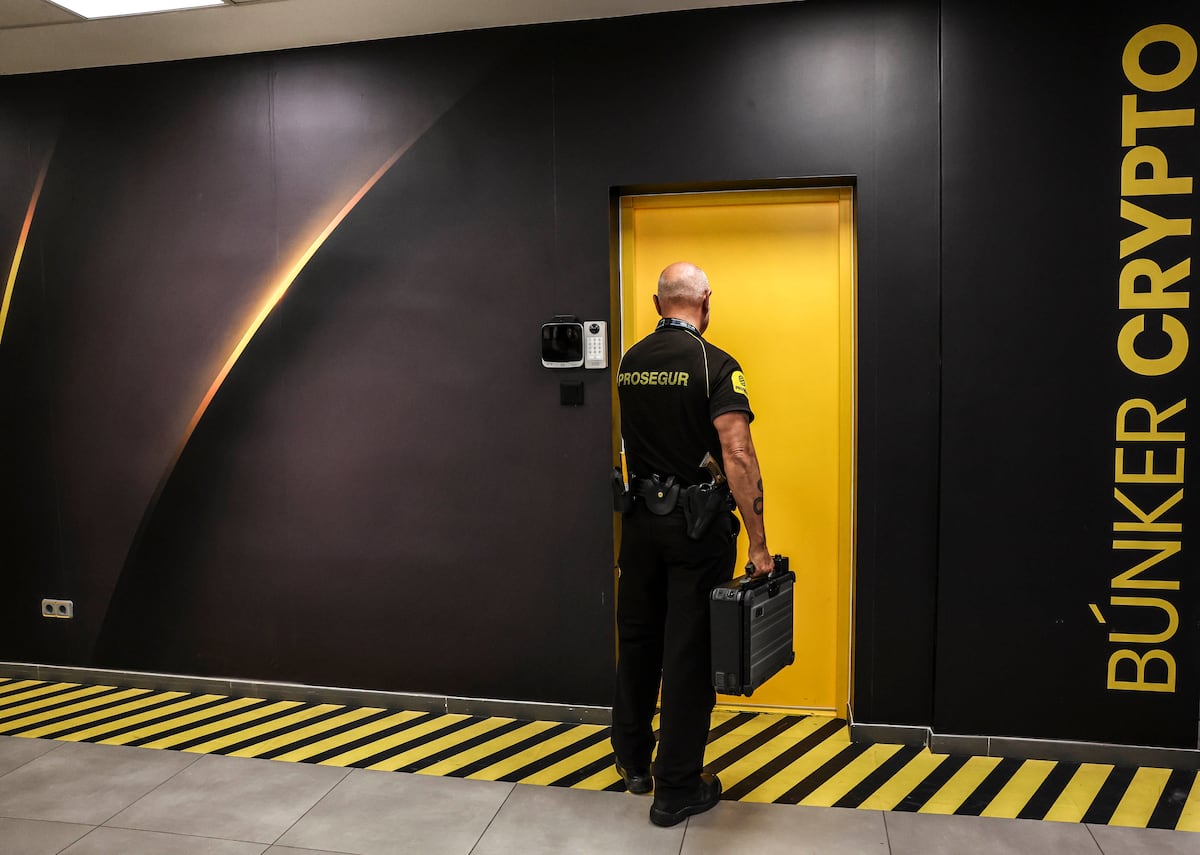 Mobile does not pass, and someone will not record what they should not. The door does not open until others have closed, a basic security rule to turn every room into a mousetrap for criminals. Armed guards walk here and there, and one of them always accompanies visitors. If there's a problem – attempted robbery, something that's never happened before – just hit a few buttons to fill everything up with smoke until you can't see anything a foot away. In a soulless industrial area, as gray as the unusual sky at the beginning of June, with no pubs or shops nearby, only the noise of engines running among the cylinders of construction mortar plants, concrete mixers, trucks and a service station, the Proségour fronts in the Vicalfaro district of Madrid It stands out for its striking corporate yellow paint.
The building would look identical to the hundreds of other buildings the company has around the world for the same purpose: to store value, whether it be in the form of money, gold, paintings, or some other format. There is a parking lot with armored vehicles capable of withstanding a bullet from an AK-47, rooms stacked with bags full of coins and wads of cash, machines sorting or counting money – one of which adds up numbers and it's over €600,000, and it's just one – supervised by cameras recording everything and a different staff, mostly women. "They have smaller hands, it's better to handle them," they justify this from the company.
Two-way traffic. Enters monetary Parking meters, supermarkets or shops. It goes, among many other destinations, to bank ATMs. They explained: "We are now preparing the money that members of the electoral committees receive." There are also pallets full of cash that are appropriately marked with their weight, the number of coins in their possession, and the value of each. One of them could read "1 euro, 50 thousand euros, 399 kg." The scene is vaguely familiar, and someone calls out the similarities. "It's like IKEA, but with money instead of furniture." that it.
However, between the walls of Prosegur Castle there is something that makes them different. A door with a biometric lock that only a few people can pass through, next to which words are written encryption vault. and a mysterious, sophisticated suitcase made by Israeli company GK8, the appearance of which is hard to come by because protocol states that before moving from the hidden location, you must receive several security clearances. These are the tools with which Prosegur made the leap into cryptocurrency, a world that is as technologically avant-garde as it is controversial due to its extreme volatility. Investigations were opened against some companies in the sector.
The Spanish company has diversified its business three years ago towards this sector, whose advocates foresee a promising future in a world where the issuance of money will not be a monopoly of central banks. And it stores, with security comparable to the military or nuclear, the private keys of institutional customers — from platforms offering to buy and sell bitcoin, ethereum, and other digital currencies, to the funds and investment firms that have invested in them. They charge a fee for both the custody and each transaction requested by their clients. The company says that an individual, no matter how many cryptocurrencies they own, will never be able to hire Prosegur's services, which focus solely on institutional services.
To withdraw their cryptocurrency, customers place the order through a highly secure mobile app, and if Prosejour doesn't realize anything strange that makes it suspect possible coercion or impersonation — late-night orders, for example — it will comply using the bag where the keys are kept. Secrecy surrounds the entire operation. For security reasons, they don't even show the inside of the bag, but those who use it compare it to a particularly advanced laptop, without an internet connection so it can't be hacked, with a security layer of Prosegur that would prevent even the Israeli company that made it from accessing it, and without oxygen inside, an extra wall to prevent attacks using microphones and other devices.
If an intrepid attacker can get through the previous security filters and gain access to the bag—which is highly unlikely in itself—he won't have an easier time getting cut. If you get the passwords wrong, client passwords are automatically deleted and can only be recovered later by Prosegur. And if someone leaks the passwords to get in, they'll need to take the bag to the hideout to deliver it, and also take a double that doesn't work without it, where the challenge takes on proportions more typical of fictional thieves like those with Ocean Eleven In Las Vegas casinos.
Some questions remain unanswered. How much money does Prosegur hold in cryptocurrency? Those responsible for the company avoid giving specific numbers, but they do release a comparison that allows one to get an idea of ​​the volume. "There is more money here than all the bank branches in Madrid and Barcelona combined," says Jose Angel Fernandez, CEO of Prosegur Crypto. Booty is juicy. Therefore, some stealth is part of the game. Nor does it reveal the cost of this complex bag, without which nothing can be, but one fact allows you to get an idea of ​​its complexity: updating it is not as simple as downloading a file and installing it. It is necessary for the expert to make the 5,000 km flight from Tel Aviv to Madrid to do it himself.
Are these cryptocurrency security measures overrated? There are precedents supporting such accuracy. In November 2021, Zaryn Dentzel, one of the founders of Tuenti, was held and beaten for hours in his home near Parque del Retiro in Madrid by four masked men. They demanded his private keys to steal €25 million in cryptocurrency. Today the attackers are in jail, but the case shows that organized crime has not ignored the massive flow of money driven by cryptocurrencies as a source of enrichment.
Prosegur, the Spanish company with the second largest number of employees after Inditex (more than 150,000 workers in 31 countries), believes that its well-established position in the world of security, together with the bunker it has set up expressly to protect its clients' cryptocurrencies, equipped with 116 safeguards that "prevent any possibility of physical or cyber attack", makes it easy for it to grow in this sector. He hopes the biggest boost will come when traditional banks get heavily involved in offering cryptocurrencies, under the premise that in the future, when one of their customers orders to buy or sell bitcoins or ethereum, it will be a prosegor, not financial institutions, that will carry out the process and be responsible for protecting capital thanks to that insurmountable physical and technological mix in the east of Madrid.
Follow all information for Economy y a job in Facebook y Twitteror on our website semanal newsletter
The most important economic dates of the day, with keys and context to understand their scope.
Subscribe to continue reading
Read without limits