Spanish basketball medal collectors
Summer is the territory of basketball in Spain, the season in which all national basketball teams – in the higher and coaching categories, for men and women – are accustomed to harvesting medals without any mistakes: out of 14 possible since the summer of 2022, Spanish basketball has achieved 13, all of them Except for one, gold or silver. Another is about to fall. Kicking off this hot Friday at the WiZink Center in Madrid is the final leg of the Junior World Championships, with hosts Spain starting as favourites, along with the United States, to bid for an irresistible 14th medal. Work is over for this heat wave, the culmination of which will be the men's absolute world championship from August 25 to September 10 …
What happened in the last decade for Spanish basketball to struggle for the first step on the world podium against the American superpower? How did this basketball explosion happen?
The first major factor is provided by the President of the Spanish Basketball Federation (FEB), as well as, for a few months, the President of FIBA ​​in Europe, Jorge Garbajosa. All Spanish basketball teams have been operating with a fully functional unified training methodology since 2016; Therefore, there is a seal, which is an approved designation of the origin of Spanish basketball, a mission in which professional clubs and youth academies have also been actively involved, and with which the FIBA ​​coordinates on a daily basis. As the 129-time international Ana Montagnana (Valencia, 1980) sums it up: "The largest project in the world was built, perhaps with the one in the United States. The evolution I have gone through since being called up to the national team the first times, as a keen player and glued to a wire phone Really amazing. Now, you go there and in the rest of Europe you don't see these club structures and these coaches. Montagnana, who was the first woman to coach a men's team in the Endesa League, has been the coach of the women's coaching teams since 2011 and today she is the second on the coach's bench, Bernat Canute.
The team holds national call-ups every summer for players aged 12 (U12, U14, U16 to U20 and All sponsored by Endesa..), to make groups that live together and train year after year, true friends, who grow very much together class after class. From the age of 16, international tournaments are organized, and until then, FEB ensures that high-level competitions are also held. This nickname created by Gasol and his company for the first team, La Familia, can be applied, then, to himself how to operate that governs Spanish basketball.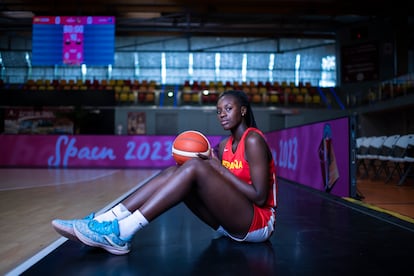 Montagnana was perhaps the first generation of players to see that a successful professional basketball career was not an illusion, thanks to the seed planted by those who preceded them and achieved the first gold in Spanish basketball in 1993 at the Eurobasket tournament in Perugia. "I was fortunate to grow up 20 minutes away from Club Godilla, the best women's basketball club in the 90s, surrounded by Spanish European champions. Having references is key. However, outside of cities with strong projects like the current Valencia Basket, the chances are much less. ".
In keeping with the argument, coach Bernat Canute said: "I am from Seu de Urgel [en Lleida]There are children in the street wearing Cade La Sou jerseys [que milita en la Liga Femenina Endesa]. The same is true for towns and cities that house teams this strong. The challenge now is to get the vision, so that this phenomenon can be replicated throughout Spain."
A path in which several stages are occupied, some of them crucial to explaining the success of Spanish women's basketball, in Canute's opinion. The etymological meaning of play, that joy, that purpose of entertainment that the verb implies, can also make a difference when the expression "play basketball" refers to something else: competition and winning tournaments. "It is essential not to lose the fun and naturalness of the yard. It is very good for a Spanish player to deal with basketball in school for the first time, play without guidance and develop that innate talent. In Spain, basketball has been the team sport played by women for decades, with more than 100,000 licenses a year. But you don't start out with direct calling practice sessions and practice plays… like in other places." In the right mix of academy and street, of spontaneous genius and decision and hours and hours of practice, lies part of the secret recipe for Spanish women's basketball…
Against early female abandonment, family
Although the lure of ecstasy has compelling reasons, there is a less happy opposite: During adolescence, four out of five girls give up playing basketball. This was revealed by a report by Endesa – who has been supporting the construction of the entire structure of basketball for exactly a decade – and released by international psychologist and former athlete Mar Rovira, which led to the emergence of For the Basket Girls project To prevent early abandonment of basketball by adolescents. Precisely for this reason, a good sporting moment must be taken advantage of to change this dynamic forever. And this is where the heroes of Generation Z like Elena Buenavida (Santa Cruz de Tenerife, 2004), Iyana Martín (Oviedo, 2006) or Awa Fam (Santa Pola, 2006), the running stars of the Madrid World Cup, appear in which they shine with their light. Because they will be the mirror in which today's girls will look, not only to pursue being a professional, which is not necessarily the goal, but, as Anna Montagnana points out, so that "the practice of basketball as a hobby gains integers and becomes culturally accepted as appropriate for women".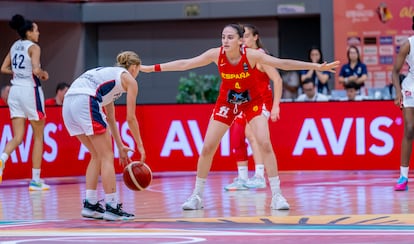 And is that even for these bits of players it was easy… "I always saw him very far," admits Awa Pham, whose always recognized idol is the Asto N'Dour center (one gold, one silver, two bronze) with Spanish national team). The first time she was called up to the national team, she was barely 12 years old. "I only played basketball in my hometown, in Santa Paula. On that call there were about 30 girls. I remember the last game. I had so much fun… I felt like what was being played was something else, another basketball, and I discovered that my love for the sport It was bigger." That same summer, he made the leap and signed for Valencia Basket. Why did it go so well with so many details that could go wrong for such a young girl? In saying: Because he found a new family. Without the context that the clubs and federations have built, and without working for many years to form this large, welcoming (and competitive) family that is Spanish basketball, it would not be possible to achieve 14 medals in two summers or the bright future that these talents promise. "I hope for a change towards equality," says Montagnana.