The fashion for living in a house made of shipping containers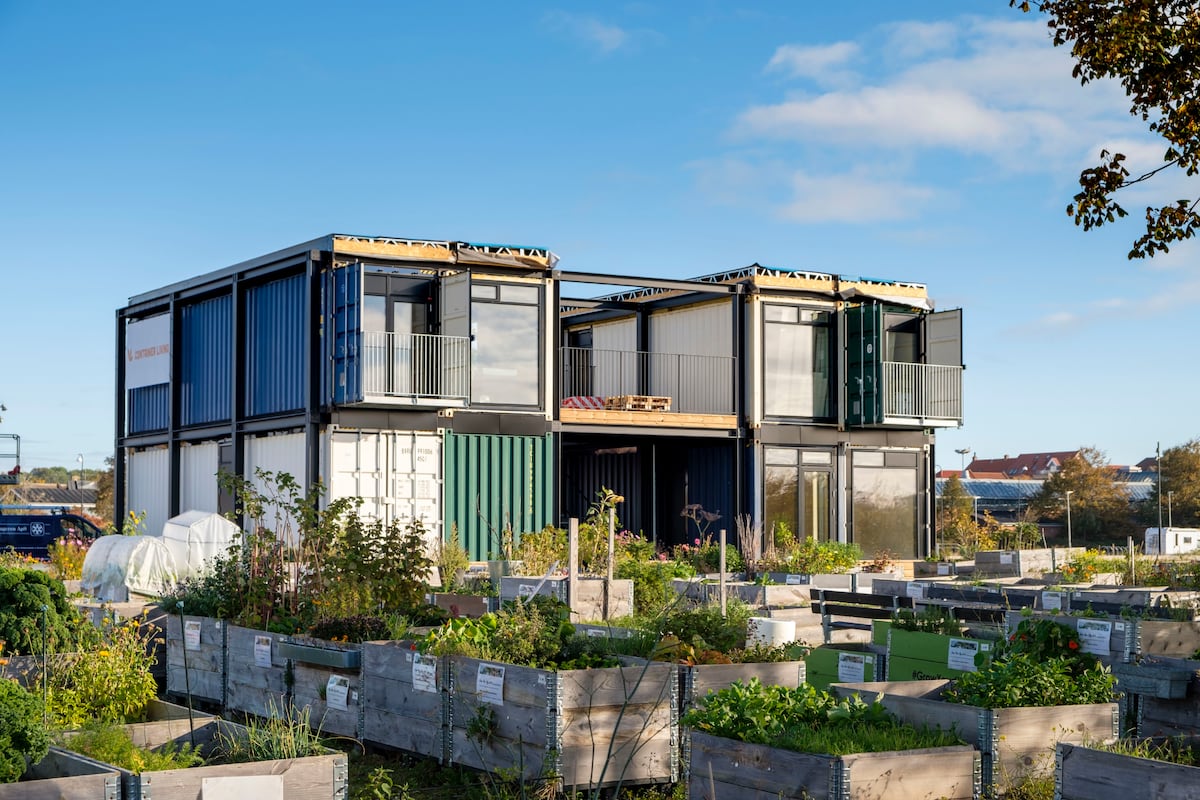 Doha Stadium named 974, designed by Spanish studio Fenwick Iribarren Architects for the World Cup that was held in Qatar last year, It was built using standard shipping containers and modular steel elements. Eight years ago, Amsterdam was home to the largest shipping container neighborhood in the world, called Keetwonen. The United States is one of the leading countries in building homes with these blocks, especially in urban areas where there is an urgent need for affordable housing. Australia and the United Kingdom, among other countries, have also adopted this method of construction. It is a construction method that is cheaper than the traditional one, is much faster and has been tested for years in different countries, as well as being compatible with the global trend of increasing presence. from recycled materials and promote a circular economy.
This trend has reached Spain, although, at the moment, the construction of container homes is in its infancy. It is also viewed with some suspicion. "Demand has increased significantly since the coronavirus, but it is still not associated with a sense of relief," says Juan Pedro Fuentes, director of J&J Containers, a container shifting company based in Estepona (Málaga), which is building several projects in that province. One is for a woman with mobility issues who lives in Marbella. "He has trouble climbing stairs on a daily basis, so he sold his house and we are building another 90 square meter house for him with three containers. It will be adapted and used as a first home," says Fuentes.
In addition to individuals looking for a home at an affordable price, this formula has been used in Spain as a solution for families in vulnerable situations. The Barcelona City Council pioneered the construction of container homes It already adds two bivouacs. This was followed by La Palma to deal with the emergency due to the eruption of its volcano in 2021.
The final price of the house varies depending on the materials used, but it is around 1,350 euros per square metre. Although "from 800 euros per square metre, you can get important qualities", says Miguel Angel Rojas, sales technician of Mundo Contenedor, which has an office in Humanes (Madrid), and which has built about a hundred homes of this type, the first in Galicia in eight years. Homes are delivered ready to be furnished with bathrooms included. Another plus is the manufacturing time, which ranges from three to five months.
Promoters and investors begin to regard the formula as a business. "We are studying with a Spanish investor to promote 100 three-storey container apartments in Motril (Granada) with a view to renting them out," says Rojas. Tourist rentals are gaining weight among the requests received by container recyclers. They are projects of grouping four or five houses into independent containers and renting them out. We have requests in Madrid and Portugal, but they are still dealing with the issue of permits," Fuentes says.
Companies buy from major shipping companies containers that are no longer suitable for sea transportation, but whose structure is in good condition. "We use it to give them a second life, to turn them into homes or for any other modification," Fuentes says. It can be beach bars, gyms and swimming pools food trucks… It is made of stainless steel, and is resistant to corrosion and oxidation. For homes, reefer shipping containers are usually chosen because they have thermal insulation thanks to polyurethane panels, which helps maintain a controlled temperature inside. The cost of these used blocks, prepared to withstand extreme temperatures, is 1,900 euros, and if they are refrigerators, it rises to 3,500 euros. There are skilled individuals who buy these containers outright to do the work themselves, though beware as companies warn of an increase in online buying and selling scams.
There are two standard sizes. The containers are 6m by 15m2 and the containers are 12m by 30m2. They are 2.44m wide and "a private 2.90m high, so when they are insulated, they adhere to the regulations," Fuentes says. However, the design is not limited to these two sizes, as the units can be joined, separated or stacked to create original designs.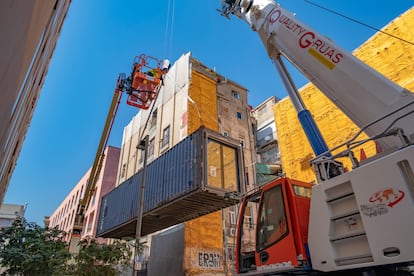 The secret to making these blocks a comfortable home is to insulate them, so it is important to seek out an experienced professional who will prevent the house from doing so It converts to an oven in the summer and a refrigerator in the winter. "Extruded polystyrene and rock wool are the materials we use a lot to give them good thermal and acoustic insulation. We also created a 50cm air circulation chamber on the roof and installed a sandwich panel," says Fuentes.
Renewable energy
It is common for owners of this type of building to choose to incorporate renewable energies, such as solar panels or wind turbines. Rainwater collection and filtration systems and wastewater treatment equipment are also often installed. It is important that these homes comply with the technical building code and regulations applicable in each autonomous region and town hall. Air conditioners are installed in all homes and the most common heating systems are electric, air heat, gas and biomass. "I would venture to say that it has nothing to envy for a traditional house, as long as the fabrication is done right," says Fuentes. The container can be covered from the outside with any material: wood, imitating brick, stone, or maintain its industrial look.
However, it should be borne in mind that poor work can greatly affect the feeling of well-being. This is one of its main drawbacks. In addition, you must be attentive to the condition of the container. "The base may be rusty because it's been used for years," says Rojas. And that's exactly what happened to the La Palma Houses, which were rusting away four months after they were delivered. An alternative for more conservative customers is to use units, also made of steel, but made from scratch. Aesthetically, they are the same, but they allow three meters of width and are new. The metal sheets that the containers hold are replaced with insulation. Of course, there is not much difference in the final price of the homes. Whether it is a container or a new unit, all that remains is to transport it to the plot in trucks, something that costs between 1,000 and 2,500 euros, depending on the distance to be covered.
Follow all information for Economy y a job in Facebook y Twitteror on our site semanal newsletter
The most important economic dates of the day, with keys and context to understand their scope.