The women's team also excites Argentina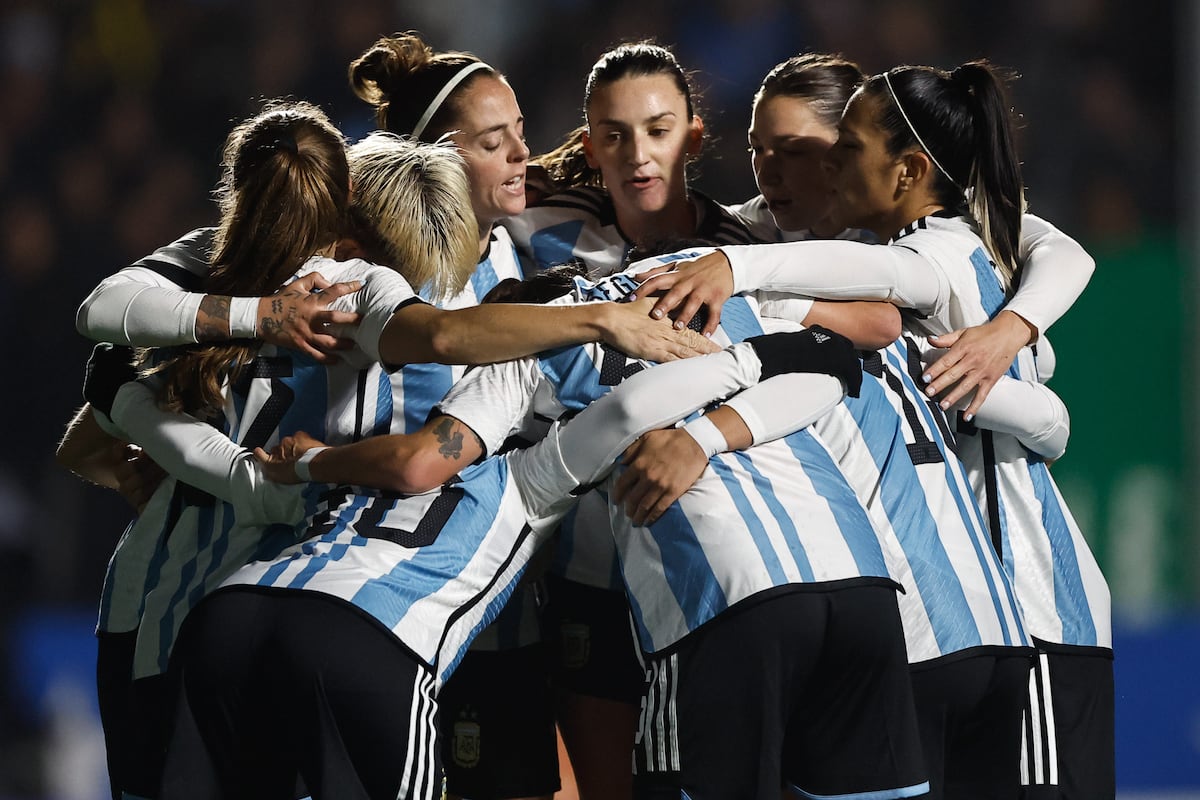 Perhaps like no other geography, Argentina and football cultivate a blood relationship under the skin. But at the same time, as in most countries, this subcutaneous relationship was limited to the male sex. Able to set the community's pulse Five million people thronged Buenos Aires to welcome Lionel Messi's world champions At Qatar 2022, Argentine fans have historically ignored women's football or treated it as a sub-sport, a sideshow. However, in recent years, something – or a lot – has begun to change: for example, the Argentine team that will debut on Monday at the 2023 World Cup in Australia and New Zealand, against favorites Italy in Auckland, has begun to fill stadiums in their own country.
On Friday the 14th, hours before traveling to Oceania, 20,000 spectators filled the stands of the San Nicolás stadium, 240 kilometers north of Buenos Aires, for the team's farewell match against Peru. These are common images now, but would have been unimaginable even just five years ago, when the transformation of women's football accelerated, which, in any case, still had many rights and ground to conquer.
since it was Semi-professional in 2019 based on allegations made by soccer player Macarena SánchezProgress has been steady: More than half of the players have started charging money to play, Serie A clubs have opened their stadiums at least once to take over the Women's League – River Boca have already been played in Monumental and Bombonera – and some games have drawn crowds, such as when Belgrano de Córdoba packed 28,000 in its promotion to Serie A, in October 2022.
In contrast, the women's team is already accompanied by a large audience: in April this year, 32,000 fans gathered – also in Córdoba – to watch a friendly match against Venezuela. It is true that the Mario Alberto Kempes Stadium, the second largest in Argentina, had the capacity to hold almost twice as many spectators, and tickets were sold at bargain prices, but it was, in addition to the national record of attendance at a women's match, an affirmation of a sincerity that already seems irreversible.
Until recently, the Alpselesti women's national team would avoid appearing in stadiums – even smaller ones – because due to the lack of public interest, the stands would appear empty. It was still a consequence of the patriarchy: Argentine footballers, even the best, never showed themselves to the public. As Ayelén Pujol, journalist and author What a player! A century of women's football in Argentina, "The team was playing friendlies against regional teams at the AFC headquarters behind closed doors." Even in the only women's Copa América won by Argentina, in 2006 as a local in Mar del Plata – Brazil's other eight editions – spectator attendance was minimal: tickets were free and even then, family and relatives hardly attended.
The break came in the France 2019 qualifiers, when in November 2018 12,000 people packed in to take on Panama at Arsenal Stadium, on the outskirts of Buenos Aires. The feminist movement, while also campaigning in favor of free and free abortion – approved in December 2020 – cried out in dissenting songs in the midst of celebrations for Argentina's first World Cup qualification for 12 years: "You'll see, football will be for everyone or it won't be for everyone, and yes chabon (we carry a colloquial way of referring to our man…") Less than three months later, Macarena's claim came so that footballers would stop being amateurs.
Argentine women's football has walked in the desert for years, decades and even a century. Despite playing a national representative in the unofficial 1971 World Cup in Mexico, When Elba Silva was ahead of Diego Maradona in time and scored four goals for England at the Azteca Stadium.the men's team leads by 91: the men's Albiceleste team made its debut in 1902 and the women's team played its first official match in 1993. The difference is even greater in domestic tournaments: the AFC organized a tournament for the first time in 1891 – GentlemenLogically – only 100 years before the first competition for "girls" in 1991.
two generations
Progress and suspended accounts coexist today. Just a club Boca Juniors – Crazy Regular ChampionHe also from 2023 – made all the players on his team sign a professional contract. But at the same time, the foundation ignored for several weeks a complaint of sexual harassment and assault made by a club employee, Florencia Marco, to the coach of the women's team, Jorge Martinez – he was finally sidelined when the case came to justice.
"Football has changed a lot in these years, but I think it's more semi-amateur than semi-professional. Today there are still 2 or 3 players making a living from this – in domestic football -. Last year's starting midfielder for the team, then for Estudiantes in Buenos Aires and today in Palmeiras, Brazil, one of 14 Argentines – among 23 called up to the World Cup – who are competing for foreign clubs, said Lorena Benitez, she said afterwards, One cannot live by the contract given to him.According to AXEM's account, Argentinos Around the World, 200 Argentines play for teams abroad, a record in history – and so do 5,771 male footballers.
The fourth Women's World Cup in Argentina, the second in a row, will be the farewell to an era: the era of footballers who, due to the absence of women's teams when they were girls, had to start playing alongside boys. "I started at six years old with boys, but when it came time to go to 11 on the field, I couldn't because I was a girl," said Fanina Correa, the goalkeeper and captain of the team, who is the only one with a full presence in Argentina's participation in the 2003, 2007, 2019 and 2023 World Cups. The most talented, Estefania Panini – Atlético Madrid champions in the last Reina Cup, in May – was formed with the children of Cementista de Mendoza only after her parents signed in front of a notary that the club would not be responsible if their daughter, who was then 6 years old, was injured by playing among boys. "I felt discriminated against, I suffered," recalls Panini, now 33, who announced he would play in his last World Cup.
Among the 23 called-up defenders Adriana Sachs, now 29 in Santos, Brazil, was a contemporary of the Big Bang. At the beginning of 2019, when he was still competing in the Argentine championship, he also performed cleaning duties for his club, UAI Urquiza. "Here it is not professional and we cannot live from sports. Many players leave their homes at six in the morning and return at eleven at night," she said at the time, a few months before she competed in the World Cup for the first time. What is different for Argentina four years later, hours after their debut, is that for the first time they have youngsters trained in the clubs' new women's lower divisions, which did not exist before. In New Zealand there will be 17-year-olds like substitute goalkeeper Lara Esponda, from River Plate, who have been inspired by the rebellion and struggle of the top teams.
Between these two generations, the Argentines will attempt to win their first World Cup match – they have not done so in their previous three participations – and make it through the first round. No matter how it ends up, when they return to the country, they will not be greeted by the fans who took to the streets after the third star won by Messi and his children, but it is clear that when they play their next match in the country again, the stands will be full again. This is his victory.
You can follow EL PAÍS Sports on Facebook y TwitterPoint here to receive Weekly newsletter.
Subscribe to continue reading
Read without limits