Twitter Makes Your Magic: This is how the legacy of forgotten artist Rosario de Velasco unfolds
This piece corresponds to one of the shipments of the Correo del Arte weekly newsletter, which is sent out every Wednesday and is exclusively for EL PAÍS subscribers. If you want to sign up for it, you can do so in this link.
last May, asked Toya Viodice via her Twitter account help trying to find his great-aunt's pictures, Artist Rosario de Velasco. And as they say on this platform, Twitter has worked its magic. During this time, he told me on the phone, he found more than 50 paintings from different creative stages in the hands of private collectors. A selection will be on display at the Thyssen Museum in Madrid. "It would be a way to bring Rosario back into circulation, to start doing non-existent studies of her, and then, from this exhibition, we would show all that was her work," explains Viodice, "that she will be talked about again."
Rosario de Velasco (1904-1941), like many other artists, was forgotten until her niece began this campaign. At the age of 20 he attended the National Exhibition of Fine Arts (1932). His work is in the Reina Sofia Museum, in the Pompidou Center in Paris, he participated in the Venice Biennale and in important international exhibitions such as the exhibition at the Carnegie Museum in Pittsburgh (USA). coincided with Dali and with him Eugenie Dors (Noucentisme promoter, who has always supported her). Her art was initially based on classicism of which she was an expert Victoria Comabalia is profiled in papilla as "a bill running parallel to the so-called New German Objectivism, whose namesake is the Italian Novecento or Catalan Noucentisme". The art critic says that in his work there is "a will to renew traditions, not to copy them, to create archetypes such as family, motherhood, free professions or handicrafts, with a highly disciplined expression and a clear drawing of clarity."
She was one of the great exponents of Spanish painting in the 1930s, although she did not stop producing until her death. Why was Rosario de Velasco forgotten? "The civil war cut his life apart," says Fiodice. "She had to run out of Madrid, she settled in Barcelona and the press put her there. That same night he managed to get out of jail. If it hadn't been for that, I might have ended up shot like her cellmate." The artist was associated with Al-Kalaja in her youth and was denounced. When she evaded certain death, she fled with her husband on foot to the National Region and returned to Barcelona at the end of the war.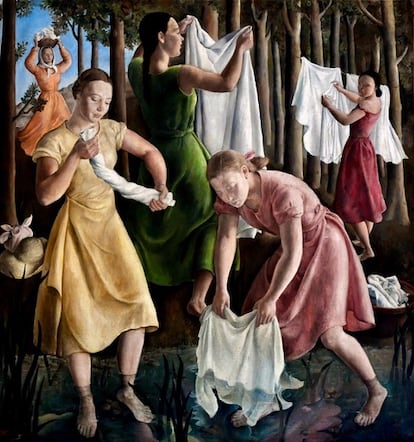 De Velasco was the daughter of Antonio de Velasco, a cavalry officer, and Rosario de Belosteguiguitia. He trained artistically with Fernando Alvarez de Sotomayor, painter, academic and director of the Prado Museum. He always had a very comfortable position that allowed him not to have to depend on his work to be able to live. "Once you get married," says her niece, "you no longer have that freedom, you are no longer young and free." She has a daughter, Maria del Mar, and she is a housewife who paints. This means that he no longer has his own room despite enjoying some financial independence. "At that time, it wasn't easy being a woman and being an artist any less." Somehow she loses the momentum of her early years as a painter. For this reason, although it is shown in such important galleries as Argos, Gaspar, Biosca, Syra and Parés, 15 years may pass between shows.
With "Maragatos", today in @employeeROSARIO DE VELASCO won second prize in the 1934 National Drawing Competition. I found painting in Barcelona.

I'm looking for my great aunt's work to show at @employee It will bring it out of oblivion, can you help me RT? pic.twitter.com/VpnCevyziJ

– Toya Viudies de Velasco (@toyaviudes) July 15, 2023
That is, an artist, perhaps distinguished by her connections with the Phalanx, who, while well off, lives her life secluded at home (like most women do) and stops painting at an almost astonishing pace. Abstract: One chapter less in the history of art.
So far.
Two years ago, Toya Fiudes met Miguel Lusarita, a cultural director who had gone to live in Cabo de Palos, in Murcia, where she lives. She told him about the project on Rosario de Velasco she was involved with long before she even dared post a tweet. In her family, Aunt Rosario was not alone, she was that artist whose paintings hung on the walls of their homes. Widows have spent their entire lives looking at the painting in their grandparents' living room and now in their parents' room. laundromatsone of the author's most important canvases.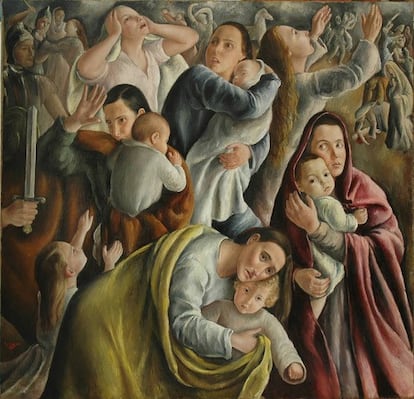 "Miguel was excited and told me he was going to help me do the project," Feodice recalls. The next step was to speak with Guillermo Solana, Thyssen's manager. At the first meeting they agreed on an exhibition that does not have a date at the moment, but which has a clear objective: to recall the first phase of Rosario de Velasco with about thirty paintings that, thanks to the magic of Twitter, will hang on the walls of one of the most important national museums in Spain.
"In life you have to know how to wait," Fiodice concludes.
All the culture that goes with you is waiting for you here.
Literary novelties analyzed by the best critics in our weekly newsletter
Subscribe to continue reading
Read without limits