Villarejo, the commissioner who wanted to manipulate everyone: "I am the host at my job"
Jose Manuel Viareggio has two concepts about himself: a good concept and a very good concept. "I'm the host at my job… I've been doing it for 30 years and I've never failed. Never! That's why the most delicate things in this fucking country are entrusted to me: be it left, right, center, or fuckin' center," the commissioner bragged in 2014 (he's known for having recorded it in secret), when there was still time for his downfall. After a decade of uttering those words – and More than three years of temporary imprisonment even– Little has changed: "I have a much higher moral superiority than what happens," insisted this 2023 to a group of journalists.
Nothing understood about him Villarejo caseone of the main causes of corruption in the recent history of Spain and in which the National Court has just delivered its first sentence, without going into the polyhedral form of this retired commissioner, He was sentenced on Monday to 19 years in prison. Born in the early 1950s in a town in Córdoba (El Carpio, population 5,000), he joined the police in the throes of the Franco dictatorship and, after a long stint as a union spokesman, hid in the shadows of the regime to rise to the top of the National Police Corps, thus establishing relations with the highest echelons of the country: business, political, legal…
He rose so high and walked the fine wire so long that Villarejo thought himself unpunished and above the law, protected by Those huge hidden recordings that he stored In a hidden closet in his living room. In addition, he built a legend around him that is woven into restaurants and reserved offices belonging to the Ministry of the Interior; Adorned with foul language, he won the confidence of his interlocutors. For years, he presented himself as a secret agent, or spy ("intelligence agent," as he says), a minister's henchman, and a plumber who descended into the sewers to walk through the filth no one wanted to delve into…
And there is some truth in all of this. But the Commissioner, retired since 2016, has always mixed what he knows with lies and half-truths, thus pretending to know more than he really does. He's a genius at hinting. At the trial, his attorney, Antonio García Cabrera, asked, "At this point, can anyone suspect how excessive Mr. Viareggio is, how argumentative, how creative, how creative?" "sincerity [a sus clientes] that he could perform the tasks entrusted to him, even though he was aware that, often, it would be impossible," continue the judges of the National Court in his sentence on MondayThey added that he "glorified" his work to "justify the high price" he was charged.
What affects most is what happens closer. In order not to miss anything, subscribe.
The police put these colleges at the service of money. In doing his job as an administrator—assigning him important missions abroad by the Corps' senior officers ("I'm sending him to a far country to investigate the kidnapping of a series of people," says Eugenio Pino, former deputy director of operations for the police)—Villarejo built a hugely profitable business empire. Network of companies with presence in Spain, Uruguay, USA and Panama; which in 2015 added capital more than 16 million euros. According to him, this network of companies was nothing more than a cover for him, for which he had state support. but Nobody cared about it.
The Public Prosecutor's Office maintains that Villarejo crossed the line and was overcome by greed. "He was not authorized, and could not have been, to profit outside the scope of his activity, based on knowledge" and statements he obtained in his capacity as a police officer, said Prosecutor Miguel Serrano: "We do not deny that Villarejo was a spy or collaborated with the CNI. But he took advantage of this condition to make a profit. This is what is absolutely intolerable and reprehensible." […] He received gifts with violations of his police jobs, and did parallel jobs for private clients. The synopsis reveals the conspiracy's access to secret databases of alleged espionage assignments it has received from companies or individuals. In return, they paid him millions in amounts (among other things, Ibex companies, such as BBVA or Repsol).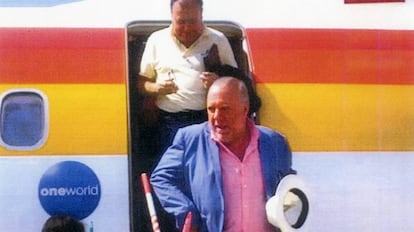 convinced Always the power of communicationVillarejo became a teacher. "I'm passionate about playing with people's opinions and standards, and that's why I study it," he said in an interview. Launch the site Sensitive information, who had his wife Gemma Alcala at the helm, and was spreading information on his behalf. He also made contact with some journalists, to whom he provided materials and exchanged services. Villarejo boasted of "escaring" the media for the benefit of his clients.
Imprisonment first, freedom later, Villarejo argued that he represented the fundamental foundations upon which democratic Spain was built. He maintains that, after years of service to his country, he fell into disgrace by confronting General Félix Sanz Roldán, former director of the CNI; And then they decided to get him out of the way. Marta Flor Nunez Former Podemos Attorney and who exercised the popular accusation at the Commissioner's trial, sums up his character thus: "He has a conception of himself superior to himself. He has a very high ego and considers himself the saver of the house." […] He talks to you like he's the good guy, and I think he believes that. Villarejo f [el comisario Enrique] Garcia Castano [también acusado en la vista]They must have done important things. But as they said in their conversations: "I want to become a millionaire." And this is where the error occurred."
Subscribe to continue reading
Read without limits