Why Woody Guthrie's Guitar Kills Fascists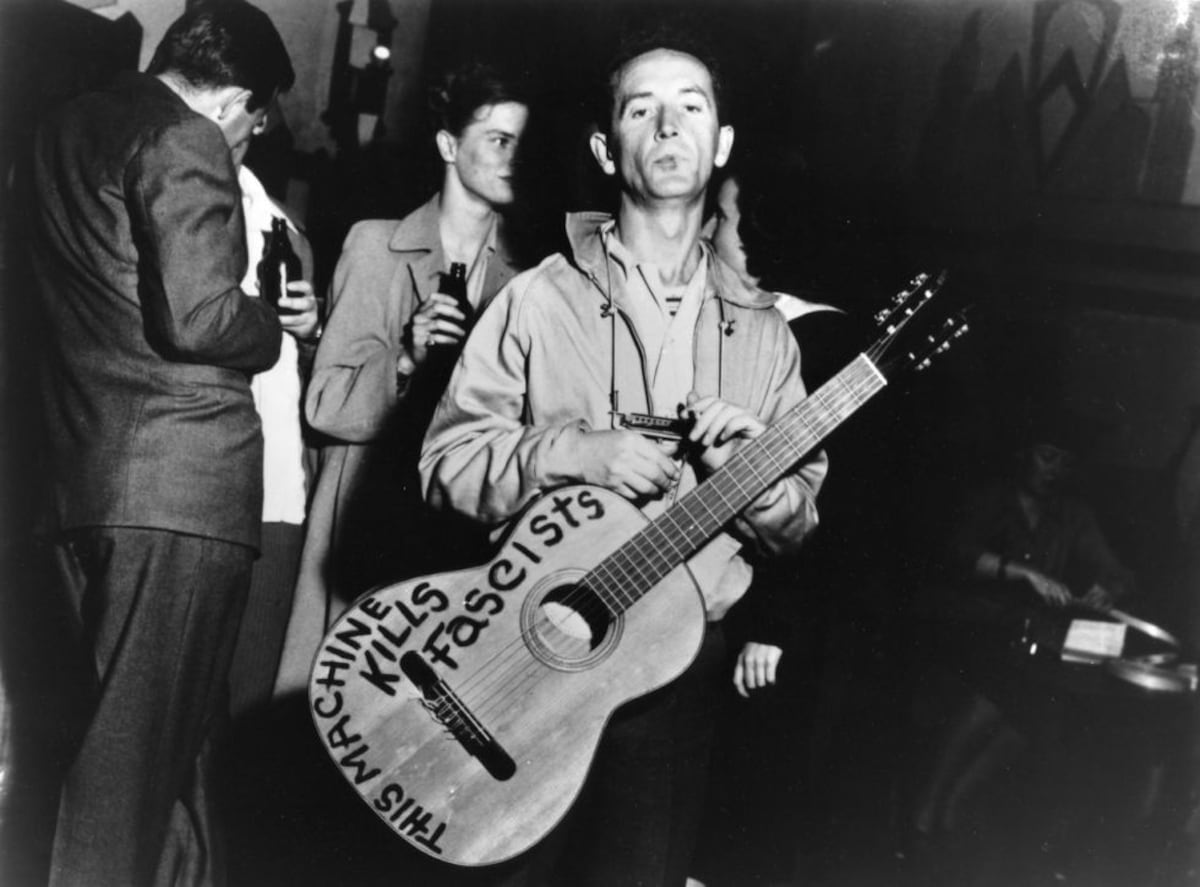 There was a time, not too long ago, when we thought fascism would indeed be buried forever. Donovan, referred to by many in the 1960s as "British Bob Dylan," carried a guitar with a visual message in honor of his hero. Woody Guthrie. In that message you could read: "This machine kills." intentionally, Donovan He removed the word "fascists". When asked in an interview why he had omitted the last word of the famous letter Guthrie put on his guitar, becoming his hallmark, he replied: "I thought fascism was already dead." was wrong. We were wrong.
Fascism never dies completely because the desire of some to apply what RAE understands by this word: "the authoritarian and undemocratic attitude" never dies. A position considered, already in the 21st century, to be socially linked to fascism or "the political movement that developed in the first half of the 20th century characterized by corporatism and nationalist exaltation". That is why, in a democratic society, people who think differently from someone will never be fascists, no matter how differently they think and no matter how easy it is to give up this word. Fascists are really ideas and attitudes that seek complete authoritarianism and anti-democracy, sometimes alongside nationalist glorification and corporatism at the expense of equality, tolerance, or justice.
The big question is that, for so long, fascists have managed to transform themselves into an extreme right within democratic societies. From there, the desire of some ended up inspiring many others who would never see themselves as fascists or extremists. And they are not, but they have joined or allowed themselves to be drawn into the rhetoric of what is now known as "alternative rights," whose most prominent leaders and spokesmen have a fascist or far-right ethos — and have even declared pride. These teachers go unmasked and lead the kind of political revolution in which discontent and provocation have been fertile ground for the mobilization of dissatisfied, hopeless, marginalized or bored citizens within the Western world where Turbo capitalism often succeeds in enforcing its law.
As essayist Pablo Stefani explains so well in ¿Has the rebellion shifted to the right? "Political irregularities are the hallmark of the new anti-progressives" and he contrasted with the left "the ability to be indignant in the face of reality and suggest ways to change it". From this situation, the current major problem, such as reflects Spain ahead of the July 23 elections, Is that these alternative rights They ended up entering institutions And as we've seen in this campaign, They continue to influence the discourse of conservatives or traditionalists. Therefore, they are getting stronger every day.
When Woody Guthrie toured the United States from coast to coast in the 1930s, he was not only learning about the realities of all the marginalized and angry in his country, but With his songs he was suggesting a way to transform it. Deceive An unimaginable urgency in these times of commercial and promotional strategy, Guthrie sang to the present to imagine the future. A near future because, basically, tomorrow cannot wait for fascist proposals to come forward. So when Guthrie sang Tear off the fascists (demolish the fascists), he asked in chorus: "Good people, what are we waiting for? (Good people, what are we waiting for?)".
Woody Guthrie's guitar didn't kill fascists because it fired like a shotgun. His guitar killed the fascists because he canceled their exit. Music and, by extension, culture is an antidote to prevent ultras from becoming powerful and spinning their xenophobic, racist, macho, homophobic and anti-statist ideas. In short, his anti-democratic ideas and positions. Guthrie battles ideas, language, music, and the quest to build a future with others in songs that belong to everyone.
They say he borrowed the letter This machine kills fascists From workers at the East Coast plant that supplied materials for the war effort during World War II. They wrote it on their lathes. Whatever it was, the message was forever attached to his guitar and it did its job. Because Woody Guthrie became an example, with the closest and most amazing reference to Bob Dylan, It has set the stage for many artists and generations of people.
If Woody Guthrie's guitar killed fascists, it was simply because he strummed. As the writer and Nobel Prize winner for literature put it: John Steinbeck: "There is nothing sweet about Woody, nothing sweet about the songs he sings. But there is something more important to those who will listen to him. There is the will of the people to resist and fight injustice." His music and personality must continue to exist. Because in order to sing or revolt against the fascists or the current alternative right-wing extremists, you must have an ideology. At least a democratic ideology. The ideology of not standing idly by when the ghosts of the past arrive, those Donovan thought were dead.
All the culture that goes with you is waiting for you here.
Literary novelties analyzed by the best critics in our weekly newsletter